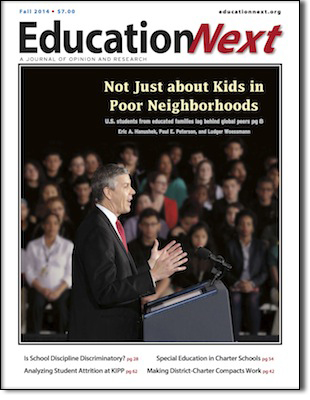 The Fall 2014 issue of Education Next is now available online.
Drawing on data from international tests, Eric Hanushek, Paul Peterson and Ludger Woessmann find that even U.S. students from educated families lag in math proficiency on the global stage. Their study finds that students in the U.S. rank 27th out of 34 OECD countries overall in math proficiency, and U.S. students with at least one college-educated parent rank 28th when compared with students in other countries from similar families.
Researchers from Harvard and MIT find that effective schools help students achieve at higher levels than one would expect, given their cognitive skills, rather than enhancing students' core abstract-reasoning capabilities.
The issue also contains articles on budget crises in the Philadelphia school district, practical and legal problems with the Department of Justice's and Department of Education's proposed reforms to school discipline policies, and a debate on whether public charter schools should serve more special education students.
See the full list of articles in the Fall 2014 Issue below or at www.educationnext.org/journal/
TABLE OF CONTENTS
FEATURES
U.S. Students from Educated Families Lag in International Tests
It's not just about kids in poor neighborhoods
By Eric A. Hanushek, Paul E. Peterson and Ludger Woessmann
The Philadelphia School District's Ongoing Financial Crisis
Why the district has a money problem
By John Caskey and Mark Kuperberg
Civil Rights Enforcement Gone Haywire
The federal government's new school-discipline policy
By Richard A. Epstein

Beyond the Factory Model
Oakland teachers learn how to blend
By Joanne Jacobs
Inside Successful District-Charter Compacts
Teachers and administrators collaborate to share best practices
By Richard Whitmire
Still Reforming after All These Years
A conversation with Terry Grier
By William McKenzie
RESEARCH
Does Student Attrition Explain KIPP's Success?
Evidence on which students leave KIPP middle schools and who replaces them
By Ira Nichols-Barrer, Brian P. Gill, Philip Gleason and Christina Clark Tuttle
What Effective Schools Do
Stretching the cognitive limits on achievement
By Martin R. West, Christopher F. O. Gabrieli, Amy S. Finn, Matthew A. Kraft and John D.E. Gabrieli
FORUM
Should Charter Schools Enroll More Special Education Students?
Education Next talks with Robin J. Lake, Gary Miron, and Pedro A. Noguera
LETTER FROM THE EDITOR
Teacher-Tenure Decision Is NOT an Abuse of Judicial Power
By Paul E. Peterson
LEGAL BEAT
Script Doctors
A compelling play on the wrong stage?
By Joshua Dunn and Martha Derthick
SCHOOL LIFE
Expand Your Reach
New-world role combines coaching teachers and teaching students
By Romain Bertrand
WHAT NEXT
Learning in the Digital Age
Better educational apps are coming
By Marie Bjerede
BOOK REVIEWS
Reporting Opinion, Shaping an Agenda
A review of 'Teachers Versus the Public,' by Paul E. Peterson, Michael Henderson and Martin R. West
By David Steiner
Catholic School Closures and the Decline of Urban Neighborhoods
A review of 'Lost Classroom, Lost Community' by Margaret F. Brinig and Nicole Stelle Garnett
By Nathan Glazer
—Education Next