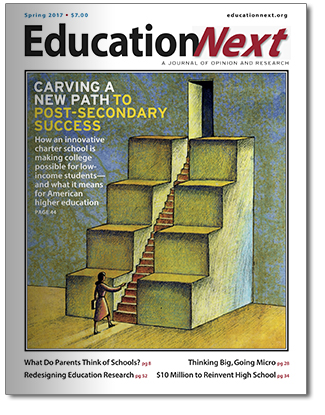 The Spring 2017 issue, which is now live on our website, features the first-ever analyses of the views of nationally representative samples of parents that compares perceptions of charter, private and district schools. The first study finds that charter parents are considerably more satisfied with their schools than are district-school parents, though private-school parents are the most satisfied of all. The second study features additional analysis with a breakdown of the results by family background characteristics.
Indeed, the education landscape is ripe for alternatives to traditional district schools. Innovators from California to Massachusetts are developing micro-schools: modern one-room schoolhouses serving 100 students or fewer with project-based curricula. And ten "super schools" are receiving $10 million each for their proposals, which beat out hundreds of competitors, to reinvent the American high school.
In the higher education arena, this issue highlights two strategies that promise to improve outcomes for at-risk students. Match Beyond offers an accelerated degree program through a pioneering approach that combines online education with intensive academic coaching and peer support, ultimately saving students time and money as they earn college degrees. And researchers at CUNY find that if college students assessed as needing remedial algebra are instead placed directly into credit-bearing statistics and provided extra support, they are more likely to succeed in their first college-level quantitative course and complete more college credits overall.
Also in this issue: A look back at what the Obama administration's signature education reform got wrong, with lessons learned to guide states and districts in refining their teacher evaluation systems, and a warning on the limits of federally-led school reform; a proposal for how to redesign education research under the Every Student Succeeds Act; and a debate on whether there is a federal constitutional right to education.
See the full list of contents below or at https://www.educationnext.org/journal.
---
Table of Contents
FEATURES
What Do Parents Think of Their Children's Schools?
EdNext poll compares charter, district, and private schools nationwide
By Samuel Barrows, Paul E. Peterson, and Martin R. West
How Satisfied Are Parents with Their Children's Schools?
New evidence from a U.S. Department of Education survey
By Albert Cheng and Paul E. Peterson
School Disruption on the Small Scale
Can micro-schools break out of an elite niche?
By Justin C. Cohen
Will the XQ "Super Schools" Live Up to Their Name?
A new philanthropy's competition to reinvent high school
By Alexander Russo
A New Path to a College Degree
Match Beyond helps low-income students succeed
By Jon Marcus
Making Evidence Locally
Rethinking education research under the Every Student Succeeds Act
By Thomas J. Kane
The Teacher Evaluation Revamp, in Hindsight
What the Obama administration's signature reform got wrong
By Chad Aldeman
FORUM
Rodriguez Reconsidered: Is There a Federal Constitutional Right to Education?
Education Next talks with Charles J. Ogletree Jr., Kimberly Jenkins Robinson, Alfred A. Lindseth, Rocco E. Testani, and Lee A. Peifer
RESEARCH
Reforming Remediation
College students mainstreamed into statistics are more likely to succeed
By Alexandra W. Logue, Mari Watanabe-Rose, and Daniel Douglas
FROM THE EDITORS
Under New Administration, Small Measures Could Foster Big Change
By Martin R. West
LEGAL BEAT
Hands Off My Tenure!
By Joshua Dunn
BOOK REVIEWS
Charter Schools at the Crossroads: Predicaments, Paradoxes, Possibilities by Chester E. Finn Jr., Bruno V. Manno, and Brandon L. Wright
As reviewed by David Steiner
Paying the Price: College Costs, Financial Aid, and the Betrayal of the American Dream by Sara Goldrick-Rab; and Game of Loans: The Rhetoric and Reality of Student Debt by Beth Akers and Matthew M. Chingos
As reviewed by Jason Delisle
WHAT NEXT
Competency-Based Learning for Teachers
By Michael B. Horn and Thomas Arnett
SCHOOL LIFE
How I Became a D.tech Dragon
By Meghna Gaddam