In the Spring 2018 issue cover story, we present evidence on the spillover effects of charter schools on nearby district-school students. New research finds that students attending a district school in New York City within a half-mile radius of a charter school score better in math and reading and enjoy an increase in their likelihood of advancing to the next grade. Benefits are even greater for district schools that share their buildings with charter schools.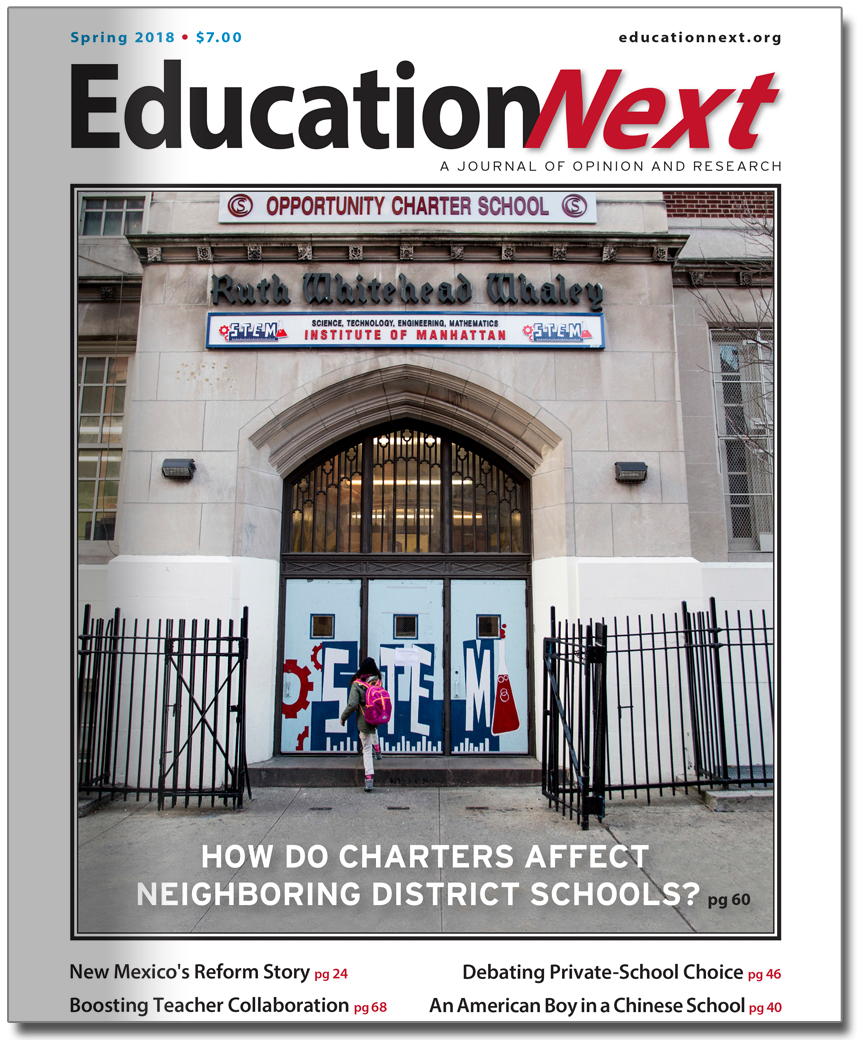 We also examine innovative policies in the charter sector that are benefiting students, families, and teachers. Colorado and Florida both recently increased the share of local tax dollars that charter schools can access, though they used different strategies to achieve their goals. In the Four Corners states, relatively freewheeling charter authorization policies allow charter schools to better meet local educational demands. And in 19 states where charter schools are exempt from state pension participation requirements, charter schools are offering their teachers more portable and flexible retirement benefits.
Meanwhile, when it comes to statewide private-school choice initiatives, the impacts on student outcomes are mixed and experts disagree on the best path forward. In our latest forum, we present a three-pronged debate on whether and how states should proceed with large-scale school voucher and tax-credit scholarship programs.
Also in this issue, new research findings on how teacher proximity impacts collaboration; an American journalist's take on sending her son to a Chinese school while living abroad; and an assessment of the tenure of former New Mexico Secretary of Education Hanna Skandera that looks ahead to whether her legacy will last.
See the full list of contents below or at https://www.educationnext.org/journal.
Table of Contents
FEATURES
Pensions Under Pressure
Charter Innovation in teacher retirement benefits
By Michael Podgursky, Susan Aud Pendergrass, and Kevin Hesla
In Defense of Education's "Wild West"
Charter schools thrive in the Four Corners states
By Matthew Ladner
The New Mexico Reform Story
Will Hanna Skandera's legacy last?
By Michael Q. McShane
A Bigger Slice of the Money Pie
Charters in Colorado and Florida win share of local tax dollars
By Parker Baxter, Todd L. Ely, and Paul Teske
An American Boy in a Chinese School
Journalist's new book chronicles her family's experience
Michelle Rhee talks with Lenora Chu
FORUM
Taking Stock of Private-School Choice
Education Next talks with Patrick J. Wolf, Douglas N. Harris, Mark Berends, R. Joseph Waddington, and Megan Austin
RESEARCH
Charters and the Common Good
The spillover effects of charter schools in New York City
By Sarah A. Cordes
The Schoolhouse Network
How school buildings affect teacher collaboration
By James P. Spillane and Matthew Shirrell
FROM THE EDITORS
Survey the Charter School Landscape
By Martin R. West
LEGAL BEAT
Snap Judgement
By Joshua Dunn
BOOK REVIEWS
The Education of Eva Moskowitz: A Memoir by Eva Moskowitz
As reviewed by Chester E. Finn, Jr.
The Testing Charade: Pretending to Make Schools Better by Daniel Koretz
As reviewed by Dan Goldhaber
WHAT NEXT
"Hey Alexa, Can Voice Activation Help Kids Learn More?"
By Michael B. Horn