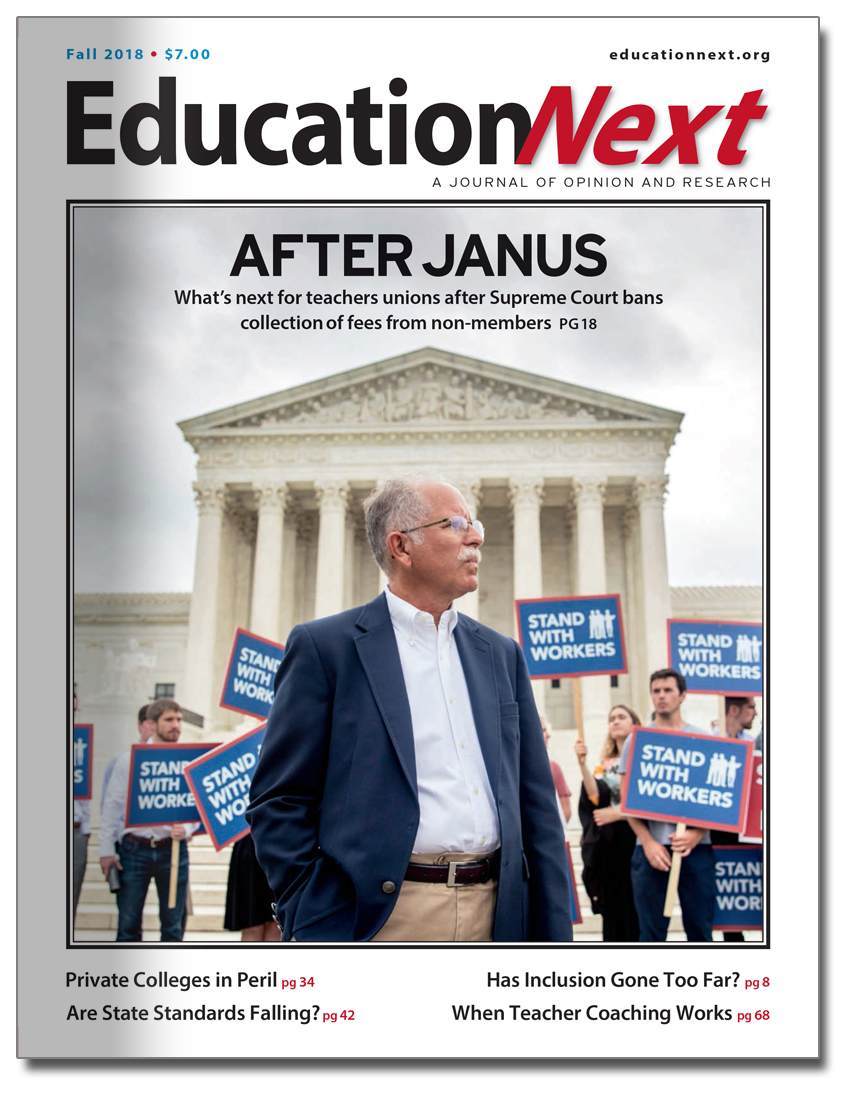 The cover story of the Fall 2018 issue examines what's ahead for teachers unions after this June's landmark Supreme Court decision banning agency fees for non-members. Are we entering a new era of teacher activism? A new study also points to what could be a new era in teacher professional development, finding that one-on-one coaching can move the needle on student achievement. But can it be taken to scale?
This issue also highlights enrollment trends in the K-12 and higher ed private sectors. A discussion of small private colleges predicts increasing closures amid financial pressures and a shrinking pool of high school graduates. A new research article also investigates enrollment trends in K-12 private schools, revealing that widespread closures of affordable Catholic schools have largely priced the middle class out of private school options.
We also explore student achievement as it relates to standards and the classroom. An analysis of state proficiency standards finds that states are keeping the bar high on their expectations for students, but 2017 NAEP shows little change on student performance. And a new take on the practice of inclusion for students with disabilities challenges the status quo by warning that location doesn't equal access.
Also in this issue, a critical look at the role the ED Office of the Inspector General plays in education policy decisions, and an expert debate on the rules of federal higher-ed spending—can Congress find a balance between protecting taxpayers and spurring innovation?
See the full list of contents below or at www.educationnext.org/journal.
---
Table of Contents
FEATURES
Has Inclusion Gone Too Far?
Weighing its effects on students with disabilities, their peers, and teachers
By Allison F. Gilmour
After Janus
A new era of teachers union activism
By Bradley D. Marianno and Katharine O. Strunk
Inspecting the Inspector General
Should auditors set the terms of debate on federal education policy?
By Jason Delisle and Nat Malkus
Private Colleges in Peril
Financial pressures and declining enrollment may lead to more closures
By Stephen Eide
Have States Maintained High Expectations for Student Performance?
An analysis of 2017 state proficiency standards
By Daniel Hamlin and Paul E. Peterson
FORUM
Rethinking the Rules on Federal Higher-Ed Spending
How can Congress spur innovation while clamping down on fraud?
Education Next talks with Michael B. Horn, Alana Dunagan, and Kevin Carey
RESEARCH
Who Goes to Private School?
Long-term enrollment trends by family income
By Richard J. Murnane, Sean F. Reardon, Preeya P. Mbekeani, and Anne Lamb
Taking Teacher Coaching to Scale
Can personalized training become standard practice?
By Matthew A. Kraft and David Blazar
FROM THE EDITORS
Privatization in American Education: Rhetoric vs. Facts
By Martin R. West
LEGAL BEAT
Judging Choice
By Joshua Dunn
BOOK REVIEWS
The Case against Education: Why the Education System Is a Waste of Time and Money by Bryan Caplan
As reviewed by Michael McPherson
Educational Goods: Values, Evidence, and Decision-Making by Harry Brighouse, Helen F. Ladd, Susanna Loeb, and Adam Swift
As reviewed by David Steiner
WHAT NEXT
Putting School Budgets in Teachers' Hands
By Michael B. Horn and Mike Goldstein
SCHOOL LIFE