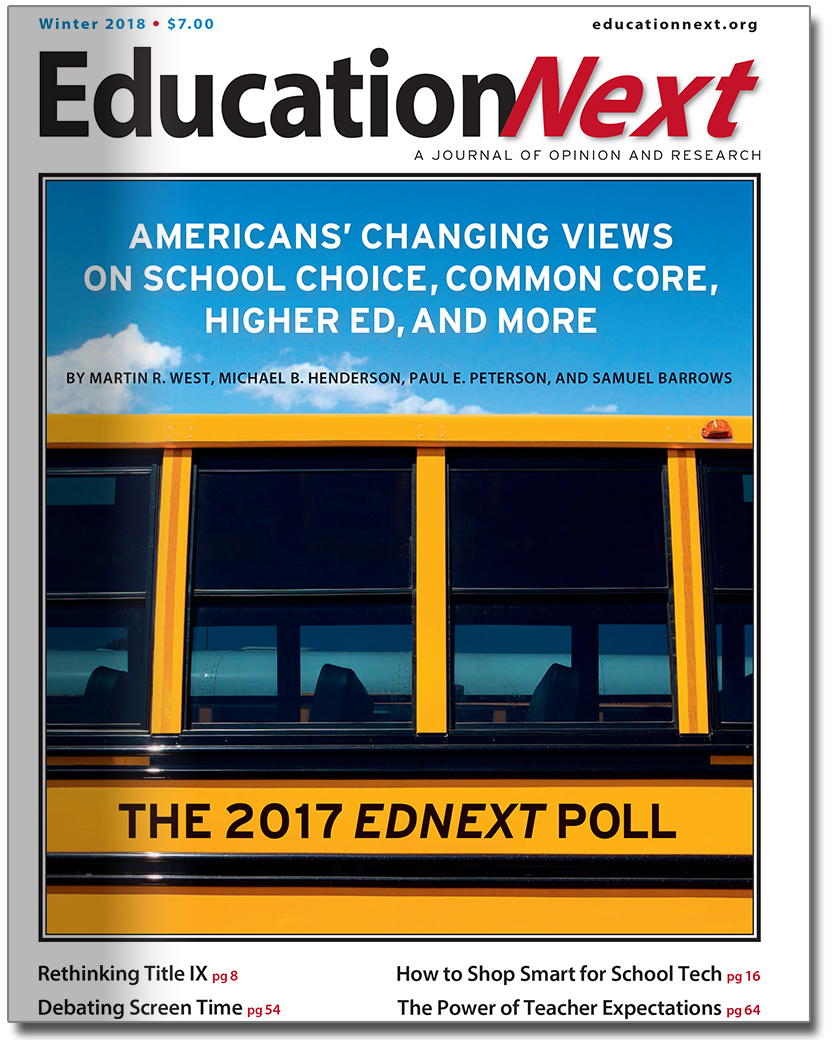 The cover of the Winter 2018 issue features the 2017 EdNext Poll on School Reform. Among this year's findings are partisan divides on issues from Common Core to charter schools, exacerbated by the "Trump Effect." But this issue's editor's letter reveals that partisanship may not run as deep as it appears to at first glance: when respondents receive information about the costs and benefits of two- and four-year degrees, partisan differences in parents' aspirations for their children's higher education disappear. Meanwhile, R. Shep Melnick explains that the federal regulation of education under Title IX is an issue that does not fall neatly along party lines, and looks to the future of federal guidance on sexual harassment.
Two new research articles shed light on topics with previously little evidence. Do teacher expectations impact students' college completion? Yes, researchers find, and furthermore, some teachers adjust their expectations based on a student's race. When it comes to school quality, how informed are parents? An analysis of more than 100 million individual searches on the nation's largest school-quality website finds that expanded local choice motivates families to become more informed about their educational options.
Our newest forum asks whether screen time helps or hinders learning. Daniel Scoggin favors human interaction in his charter network, while Tom Vander Ark thinks strategic technology use is crucial to prepare students for the innovation economy. For districts looking to invest in education technology, Rob Waldron has ten insider tips on how to evaluate tech needs and avoid getting ripped off by vendors.
Also in this issue, a look at how ESSA's new era of accountability could make or break century-old K–12 accreditation agencies and a Q&A with former New Mexico Secretary of Education Hanna Skandera.
See the full list of contents below or at https://www.educationnext.org/journal.
---
Table of Contents
FEATURES
Rethinking Federal Regulation of Sexual Harassment
The need for deliberation, not demagoguery, in the Age of Trump
By R. Shep Melnick
How to Avoid Getting Ripped Off by Ed-Tech Vendors
Ten tips for school districts from an industry insider
By Rob Waldron
K–12 Accreditation's Next Move
A storied guarantee looks to accountability 2.0
By Jennifer Oldham
The 2017 EdNext Poll on School Reform
Public thinking on school choice, Common Core, higher ed, and more
By Martin R. West, Michael B. Henderson, Paul E. Peterson, and Samuel Barrows
FORUM
Should We Limit "Screen Time" in School?
Education Next talks with Daniel Scoggin and Tom Vander Ark
RESEARCH
The Power of Teacher Expectations
How racial bias hinders student attainment
By Seth Gershenson and Nicholas Papageorge
(Re)Searching for a School
How choice drives parents to become more informed
By Michael F. Lovenheim and Patrick Walsh
FROM THE EDITORS
Partisanship and Higher Education: Where Republicans and Democrats agree
By Paul E. Peterson
LEGAL BEAT
Narrow Opening for School Choice
By Joshua Dunn
BOOK REVIEWS
The Vanishing American Adult: Our Coming-of-Age Crisis—and How to Rebuild a Culture of Self-Reliance by Ben Sasse
As reviewed by Paul E. Peterson
Lower Ed: The Troubling Rise of For-Profit Colleges in the New Economy by Tressie McMillan Cottom
As reviewed by Claudia Goldin
Language at the Speed of Sight: How we Read, Why So Many Can't, and What Can Be Done About It by Mark Seidenberg
As reviewed by Robert Pondiscio
WHAT NEXT
Big Data Transforms Education Research
By Michael J. Petrilli
SCHOOL LIFE