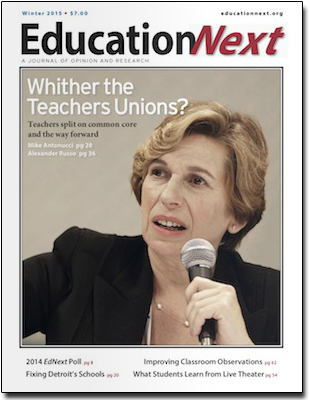 The Winter 2015 issue of Education Next was released today on our website.
The issue features the eighth annual Education Next/PEPG survey of the public (released in August). One of the poll's most important findings this year is that support for the Common Core State Standards has dropped, but that a majority of the public still favors the standards. Read "No Common Opinion on the Common Core" for an analysis of the survey's findings. Complete results are available here.
Teacher unions are scrutinized from two angles in this issue. "Teachers Unions and the Common Core" by Alexander Russo looks at the involvement of teachers unions in the development and roll-out of the Common Core State Standards, and "Teacher Unions and the War Within" dissects how changes in internal and external politics are impacting teacher union leadership and decision-making.
Two research pieces in this issue focus on teacher evaluations. The first study looks at the strengths and weaknesses of different teacher evaluation systems. The second study shows how training and support for principals in how to observe and give feedback to teachers can lead to gains in student achievement. To round out the research section of the issue, a study from Jay Greene finds that field trips to high quality performances of Hamlet or A Christmas Carol increase students' knowledge, tolerance, and their ability to read others' emotions.
Also in this issue: six recommendations to fix Detroit's broken school system, three expert opinions on whether high schools should offer two-tiered diplomas, and a piece on the Vergara v. California case that considers whether litigation is the best approach to reforming teacher tenure policies.
Winter 2015 — Table of Contents
---
FEATURES
No Common Opinion on the Common Core
Also teacher grades, school choices, and other findings from the 2014 EdNext poll
By Michael B. Henderson, Paul E. Peterson and Martin R. West
Teachers Unions and the Common Core
Standards inspire collaboration and dissent
By Alexander Russo
Teachers Unions and the War Within
Making sense of the conflict
By Mike Antonucci
Fixing Detroit's 
Broken School System
Improve accountability 
and oversight for district and charter schools
By Robin J. Lake, Ashley Jochim and Michael DeArmond
RESEARCH
Getting Classroom Observations Right
Lessons on how from four pioneering districts
By Grover J. "Russ" Whitehurst, Matthew M. Chingos, and Katherine M. Lindquist
Does Better Observation Make Better Teachers?
New evidence from a 
teacher evaluation pilot in Chicago
By Matthew P. Steinbergand Lauren Sartain
Learning from Live Theater
Students realize gains in knowledge, tolerance, and more
By Jay P. Greene, Collin Hitt, Anne Kraybill and Cari A. Bogulski
FORUM
Rethinking the 
High School Diploma
Education Next talks with 
Chester E. Finn, Jr., Richard D. Kahlenberg and Sandy Kress
INTERVIEW
Disrupting the Education Monopoly
A conversation with Reed Hastings
by Joanne Jacobs
BOOK REVIEWS
Blended: Using Disruptive Innovation to Improve Schools — By Michael B. Horn and Heather Staker
Reviewed by Mark Bauerlein
A Light Shines in Harlem: New York's First Charter School and the Movement It Led — By Mary C. Bounds
Reviewed by Nathan Glazer
MORE FROM EDUCATION NEXT
Letter from the Editor
Do Teachers Support the Vergara Decision?
Paul E. Peterson
Legal Beat
Collective Panic
By Joshua Dunn and Martha Derthick
What Next
A New Breed of Journalism — Education coverage is on the rise
By Michael J. Petrilli
School Life
Common Core In the Classroom
by Lucy Boyd