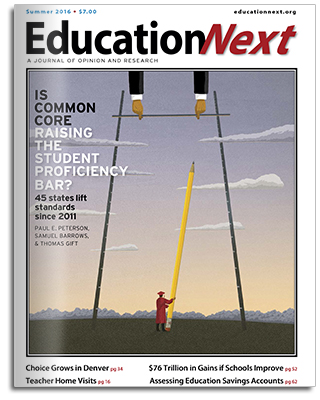 In his final issue as editor-in-chief of Education Next, Paul E. Peterson assesses the effectiveness of the regulatory approach to school reform and looks ahead to choice and competition as the best hope for the future.
In Denver, the expansion of school choice has raised graduation rates and test scores. At Salt Lake City's Innovations Early College High School, which replaces the traditional school model with a mix of blended learning, career tech, and college courses, 93% of students graduated last year. Education savings accounts, the next evolution in school choice, are giving families in five states the flexibility to design their child's education.
And it pays to improve learning outcomes: the overall gains would be $76 trillion if all states lifted average student achievement to match that of the nation's top-performing state, Minnesota.
The issue also features new research on the Common Core State Standards: in the wake of Common Core, forty-five states have raised their proficiency standards, and a comparison of the Massachusetts state exam to the Common Core-aligned PARCC exam finds that both assessments do equally well in predicting students' college success. Finally, we learn why some districts are investing significant time and money in teacher home visit programs.
See the full list of contents below or at https://www.educationnext.org/journal.
---
TABLE OF CONTENTS
FEATURES
After Common Core, States Set Rigorous Standards
Forty-five states raise the student proficiency bar
By Paul E. Peterson, Samuel Barrows and Thomas Gift
Teacher Home Visits
School-family partnerships foster student success
By June Kronholz
The End of the Bush-Obama Regulatory Approach to School Reform
Choice and competition remain the country's best hope
by Paul E. Peterson
Denver Expands Choice and Charters
Elected school board employs portfolio strategy to lift achievement
By David Osborne
High School of the Future
Cutting-edge model capitalizes on blended learning to take personalization further
by Joanne Jacobs
It Pays to Improve School Quality
States that boost student achievement could reap large economic gains
By Eric A. Hanushek, Jens Ruhose and Ludger Woessmann
FORUM
Should Reformers Support Education Savings Accounts?
Education Next talks with Matthew Ladner and Nelson Smith
RESEARCH
Testing College Readiness
Massachusetts compares the validity of two standardized tests
By Ira Nichols-Barrer, Kate Place, Erin Dillon and Brian P. Gill
FROM THE EDITORS
Not Leaving, Just Changing Jobs
by Paul E. Peterson
LEGAL BEAT
Justice Deferred
by Joshua Dunn
BOOK REVIEWS
The 160-Character Solution: How Text Messaging and Other Behavioral Strategies Can Improve Education by Benjamin L. Castleman
As reviewed by Jay P. Greene
Strugglers into Strivers: What the Military Can Teach Us About How Young People Learn and Grow by Hugh B. Price
As reviewed by Gerard Robinson
The Importance of Being Little: What Preschoolers Really Need from Grownups by Erika Christakis
As reviewed by Mark Bauerlein
WHAT NEXT
"Children, be quiet and watch your lesson"
by Michael J. Petrilli
SCHOOL LIFE
A Flipping Experiment
by Anthony Persico