Education Secretary Betsy DeVos will give a speech in Indianapolis on Monday night (tonight) at a summit hosted by the American Federation for Children. DeVos formerly served as the chairwoman of the AFC, an organization which promotes school choice.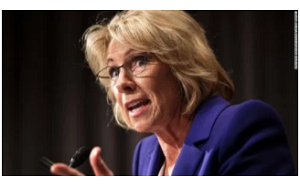 The local Fox station reports
It's expected DeVos will roll out a Trump administration plan to provide tax credits to corporations and individuals who donate money to groups and schools that provide school choice scholarships to students and parents.
For a look at the many public school choice options available in Indianapolis, please read "More Options in Indianapolis."
Tom Carroll and Neal McCluskey discuss whether a federal school choice tax credit program is a good idea here.
You can also view a video of a debate on this question here.
— Education Next
Last updated May 22, 2017