Our urban school systems struggle because so many of their students live in poverty, but they also struggle because they were designed a hundred years ago for an industrial society. In an increasing number of cities, they are being replaced by twenty-first century systems, in which the central administration does not operate every school or employ every teacher. Instead, the board and administration steer the system but contract with others to row—to operate many of the schools. If the schools work, the central administration expands and replicates them. If they don't, it replaces them. Every year, it replaces the worst performers, replicates the best, and authorizes new models to meet new needs.
The goal is continuous improvement. This new formula—school autonomy, accountability for performance, diversity of school designs, parental choice, and competition between schools—is usually more effective than the centralized, bureaucratic approach we inherited from the twentieth century. Cities that embrace it, such as New Orleans, Washington, D.C., and Denver, are among our fastest improving.
Indianapolis has recently joined the club. For 15 years, it has had the only mayor in the country who authorizes charter schools, and now Indianapolis Public Schools (IPS) is authorizing "innovation network schools:" district schools with performance contracts and full, charter-style autonomy. Some are charters, some are startups, and some are existing IPS schools that have converted. All are not-for-profit organizations with independent boards, operating outside the teachers union contract. But all use IPS school buildings and count toward the district's performance scores.
Indianapolis deserves close attention from education reformers. Though other cities have their own versions of "innovation schools" or "pilot schools," only Indianapolis has given them the full autonomy and accountability that charters enjoy. The city's charters, which outperform IPS's traditional public schools, now educate more than one third of all public school students in the district, while innovation network schools already educate another 10 percent. Within another year or so, those two sectors combined will surpass 50 percent.
Mayoral Authorizing in Indianapolis

In 1999, when Bart Peterson ran for mayor as a Democrat, Indianapolis struggled to retain its middle class. Peterson knew he needed much stronger public schools to attract and keep residents, so he campaigned for a charter-school law. Teresa Lubbers, a Republican state senator, had introduced six previous charter bills, all of which had failed. She came up with the idea of giving the mayor authorizing authority, and Peterson agreed. The combination of a Democratic mayor in the state's largest city and a Republican legislator in the state senate finally broke the logjam.
Peterson put a young staffer, David Harris, in charge of his new charter office, and Harris put in place a rigorous process to approve charters. When Republican Greg Ballard defeated Peterson after two terms, some worried that the political transition would undermine chartering. But Ballard expanded the number of charters from 16 to 39, while closing seven. His Democratic successor, Joe Hogsett, continues the bipartisan support. By 2016, the mayor authorized 35 schools on 40 campuses, which served about 13,600 students. The Indiana Charter School Board also authorizes seven schools in the city, while Ball State University authorizes two, one of which is an online school with students from all across the state.
Almost all charters in Indianapolis are homegrown. A key reason is The Mind Trust, founded in 2006 by Peterson and Harris as a kind of venture capital outfit for the charter sector. It convinced Teach For America (TFA), The New Teacher Project (now TNTP), and Stand for Children to come to town, raised millions of dollars, and offered startup space, grants, and other help to eight nonprofit organizations and 17 schools.
Mayor-sponsored charters have received roughly $4,200 less per student than IPS schools each year, in large part because they do not get free buildings or local property tax money. Yet by any measure, they have outperformed IPS schools. As schools of choice, they have the advantage of more motivated parents, on average. Demographically, they serve a slightly poorer population but slightly fewer students with special needs. In 2015, 79 percent of students in both sectors were students of color; 81 percent of charter students qualified for subsidized meals, compared to 71 percent of IPS students; 13 percent of charter students were classified as receiving special education, compared to 17.5 percent of IPS students; and 11.6 percent of charter students were English-language learners, compared to 14.7 of IPS students.
Like most states, Indiana debuted a new test in 2015, and student proficiency rates dropped precipitously. The state then changed testing companies in 2016, and scores dropped a bit more. So there is no scientifically valid way to compare test scores after 2014. On the 2014 exams, 71.2 percent of students at the mayoral charters were proficient in English language arts (ELA), compared to 60.4 of IPS students. In math, the proficiency rate was 75.4 percent for charter students and 65.2 percent for IPS students. According to the mayor's office, the charters outperformed neighborhood schools to which students would have otherwise been assigned by 17 percentage points in ELA and 16 percentage points in math. Their median-growth percentile, a measure of students' rates of progress, was about five percentile ranks higher in both subjects.
By 2016, the four-year graduation rate at mayoral charters was 89 percent, only a tenth of a point behind the state average. The rate at IPS was improving, at 77 percent, but 12.7 percent of students failed to pass the tenth-grade math and English exams required for graduation and instead earned waivers by doing remediation, having high attendance rates, maintaining C averages, receiving written recommendations from teachers of the subject the student failed, earning workforce credentials, or following another similar path. In the mayoral charters, only 2.6 percent needed to go the waiver route.
Stanford's Center for Research on Educational Outcomes (CREDO) released a study on charter performance in Indiana in 2012. The report concluded that, compared to their counterparts in traditional public schools, "charter students in Indianapolis gain an additional two months in reading and nearly three months in math" every year. In 2015, CREDO published a report on 41 urban regions, including Indianapolis, which also revealed that by a student's fourth year in an Indianapolis charter school, their annual gains were roughly double this amount.
Mayoral authorizing has turned out to be a surprisingly stable and effective strategy, enduring through three mayors from both parties. Some might worry that an elected mayor would be loathe to make the tough decisions to close failing charters for fear of alienating supporters, but that has not been the case in Indianapolis. The mayor's charter office has rejected many more charter applications than it has approved, and it has closed 11 charters over the past seven years. In the world of charter authorizing, it is highly regarded.
David Harris believes mayoral authorizing is the best model, because the authorizer is directly accountable to the families served by the schools. "They can be thrown out of office in the next election by dissatisfied parents if they hand out charters to subpar operators," he says. "Because of this, mayors have a powerful incentive to rigorously review charter applications and shut down underperforming schools. Under a mayoral authorizer, bad charters won't be allowed to fail with impunity — either the school or its authorizer will pay a price."
This flies in the face of most people's assumptions about the behavior of elected authorizers. And since no other city has tried mayoral authorizing, we don't know if Indianapolis is the norm or an outlier that has had good luck so far. But mayors who take charge of urban school districts are usually held more accountable by voters for the quality of their schools than individual school board members are. All the focus is on one elected official, whose name—unlike those of school board members—is known to most voters. Turnout in mayoral elections is usually much higher than in school-board elections, diluting the impact of interest groups such as teachers unions and charter networks. The political pressure against closures is also much lower with charters than with district schools, because most charters are not unionized, and the closure does not trigger district-wide anger.
Jason Kloth, who was Mayor Ballard's deputy mayor for education, points out that some constituencies, including the business community, want the mayor to close failing schools. "If you had a portfolio of persistently underperforming schools, and you weren't doing anything about it, there would be public pressure about that," he believes. "That's kind of the nature of what we've wanted to create: an informed public that is holding public officials accountable for the quality of the institutions they're overseeing."
Innovation Network Schools
The rise of charters put enormous competitive pressure on Indianapolis Public Schools. Within its geographic boundaries—which cover only part of Indianapolis—it had about 29,000 students in 2015-16. Another 14,000 attended K–12 charters, 2,339 attended six charter high schools for adults, and more than 3,400 used state-funded vouchers to attend private schools.
(The other ten school districts in Indianapolis, combined, have more than 100,000 students. When the city and county merged, decades ago, the school districts and police departments refused to go along.)
Until the arrival of a new superintendent in 2013, IPS was hostile to charters. Two things happened that changed the course of local history. First, in December 2011, the Mind Trust released a 150-page report titled Creating Opportunity Schools: A Bold Plan to Transform Indianapolis Public Schools. It called for a switch from an elected school board to an appointed one, with three members appointed by the mayor and two by the city council. More important, it urged that over time all Indianapolis public schools be converted to "opportunity schools," which would be treated like charters. They would have a seven-year performance contract with the district that would guarantee the kind of autonomy charters have—over hiring, curriculum, school design, and how they spent their money. If they failed to perform as promised, they would be closed and replaced by a stronger school operator. They would all be schools of choice; every family in Indianapolis would choose its school.
The report generated an enormous amount of attention and controversy. Superintendent Eugene White rejected it, and the new mayor, Greg Ballard, chose not to pursue it. "But "it really stimulated a conversation about what needed to happen in the district that had never happened before," says Harris.
A coalition of elected officials, business people, and community activists tried to convince the state legislature to allow mayoral appointment of the school board, but their efforts failed. So they turned their attention to the school board races and won all four seats that were up in 2012, creating a majority on the seven-member board. The new board bought out the superintendent's contract and hired Dr. Lewis Ferebee, a young African American who had been an elementary school teacher, an administrator, and a deputy superintendent in North Carolina.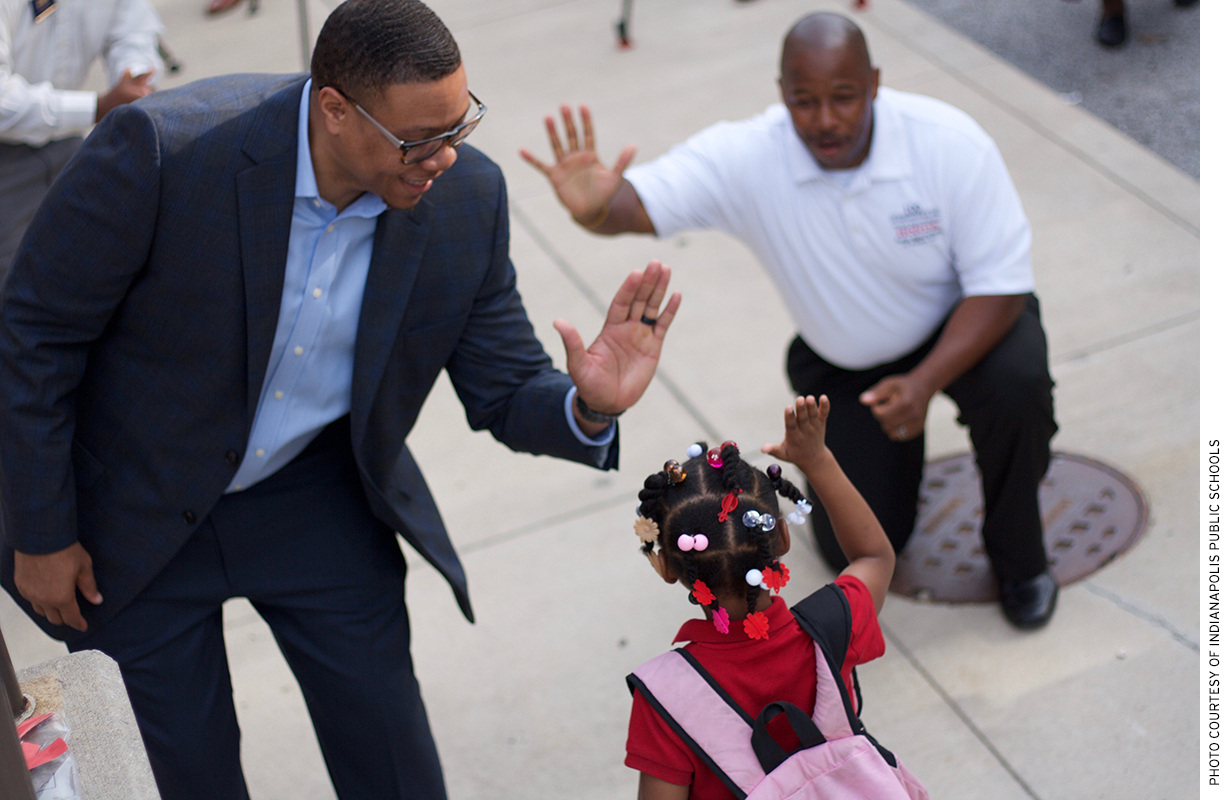 To understand why Indianapolis is creating charter-like district schools, it helps to understand Ferebee's background. At 25, he was a middle-school assistant principal in Creedmoor, North Carolina, when what he calls a "radical superintendent" asked him to become principal of the district's worst elementary school. "He gave me the keys and said, 'Lewis, you have carte blanche authority. If anybody comes to you about a decision you made, have them come to me. This is so important that I don't want anything to get in your way.'
"And I believe that was why I was successful. At the end of the day, if principals feel handcuffed, if teachers feel handcuffed, you're stifling their creativity. Your best teachers are your most innovative and creative teachers, and they know their learners. So when you don't give them the full opportunity to make informed decisions about what they know, you're limiting the opportunity for them to be successful."
Ferebee also discovered that empowering teachers "was the best recruiting tool I had. I had teachers helping me recruit other teachers to my building, because they were excited. From that I learned the power of teacher leadership. You can raise salaries—we can do some of that—but I think there's something to be said for creating leadership opportunities and for agility and autonomy in schools. That is where teachers feel most valued and most respected."
Next, Ferebee turned around a middle school, then a feeder pattern of elementary, middle, and high schools that were all struggling. When Durham, North Carolina, hired the district's chief of staff to be its superintendent, he brought Ferebee along and asked him to turn around all the low-performing schools. Again, Ferebee empowered his principals and teachers. He and his partners at Duke University were telling their story at a National Association of School Boards meeting when some board members from Indianapolis heard them. The next thing Ferebee knew, they were inviting him to Indianapolis for an interview.
"I didn't realize until I got here the real thick dividing line between traditional public schools and charters, the contentious relationship," he says. "It was almost as if we were in the same boat with the same mission and the same goals, but there was this huge wall and barrier."
So Ferebee forged a relationship with the mayor's charter office. An alliance was attractive to both sides, because IPS had thousands of empty seats it wanted to fill, while charters were struggling to find space in old grocery stores and the like. Deputy Mayor of Education Jason Kloth and his staff drafted a bill to create incentives for IPS and charters to work together, by allowing the district to bring outside operators in to run autonomous schools in district buildings. Clearly, the Mind Trust's vision informed the draft, but the mayor's office had also built a broad coalition seeking to boost the number of quality schools in the city.
The draft legislation gave IPS authority to replace its failing schools with innovation network schools, run by charter operators. Ferebee signed on and publicly supported the bill. In legislative hearings, the state teachers union suggested allowing traditional IPS schools to convert to innovation status, and Ferebee and the mayor's office agreed. The bill passed in 2014, and in 2015, the legislature added new features and extended the same authority to the state's other districts. When the 2014 elections brought three more reformers onto the board, Ferebee had strong support for the idea.
Innovation network schools have five- to seven-year contracts with the district, much like charters. If the school fails to fulfill the terms of its contract, the district can terminate it or refuse to renew it, but otherwise the district cannot interfere with the school's autonomy.
The principal and teachers are not IPS employees; they work for a 501(c)(3) corporation. The nonprofit's board hires and fires the principal, sets the budget and pay scale, and chooses the school design. There are four types of innovation network schools:
1. New startups, some of which are also charter schools
2. Existing charter schools that choose to become innovation schools and are housed in district school buildings
3. Failing district schools relaunched as innovation schools, often in partnership with an outside operator
4. Existing IPS schools that choose to convert to innovation status
The new schools tend to build up a grade or two at a time. Some of the type-three restarts phase in a grade or two per year, while others take on the entire student body. "Creating opportunities for significant intervention in neighborhood schools which would not displace any current students or require re-enrollment in a new charter school was an important principle," Ferebee says.
All but the second type serve as neighborhood schools, not schools of choice. Ferebee believes in public school choice—indeed, he wrote his doctoral dissertation on the topic. But he also wants students whose parents don't choose to have access to quality schools. He's trying to create a system that will provide quality schools, regardless of a given student's choice status.
IPS still handles special education for innovation schools that are not charters. When charter schools become innovation schools, they pay rent to IPS, but at low rates. Different innovation schools have negotiated different agreements with IPS, but most get free or reduced-price bus transportation for students who need it, free utilities, free custodial, maintenance, special education, and information technology services, free student meals, and a nurse and a social worker.
These advantages add up to an annual average of about $2,000 per student, according to David Harris—enough to make becoming an innovation school more attractive than just opening as a new charter school. "Just having a facility that exists is a $2.5 million fundraising difference," says Earl Martin Phalen, who opened a charter school and then an innovation school in the city.
Though the statewide teachers union opposed the original legislation, the local union has not interfered with implementation. Union leaders were present when IPS leaders talked with the first two schools that wanted to convert to innovation status. In both cases, an overwhelming majority of the teachers supported conversion, including the union representatives—even though it meant leaving union membership and tenure behind. "These are the high performing schools," says Brandon Brown, who ran Mayor Ballard's charter office and is now at The Mind Trust, "and most of the teachers probably feel pretty confident—and rightfully so—that their situation is going to be fine."
The Mind Trust proposed that it "incubate" innovation schools, by providing grants to leaders to support them through a planning year or two, and Ferebee agreed. The Mind Trust incubated one of the five innovation schools launched in 2015 and all four that opened in 2016. Of those launched in 2015, the single restart best illustrates what IPS is trying to do.
The Phalen Leadership Academy
Francis Scott Key Elementary School 103 had received an F rating from the state for five years. In its neighborhood, nearly one third of residents had annual household incomes of less than $10,000. The school was one of the most transient and violent in the city. Enrollment had fallen from 527 to 341, and only 11 students passed the state ISTEP exams. "Every single classroom was chaotic," says Phalen, who took it over. "Literally 13 of our sixth graders, on the pretest, were at kindergarten or first-grade levels. They couldn't spell their names."
It was a risk for Phalen, because he had to take the entire student body, rather than starting a year or two at a time, as he did at his charter school. "You have to believe that you can get third graders and fourth graders and fifth graders who've been in a chaotic environment for five, six, and seven years to actually behave up to your expectations," he says. But he had run a summer tutoring program in the city with 5,000 kids, including members of seven gangs. "We put them on one campus," he smiles. "So I wasn't scared about being able to set the culture. We can set culture."
Francis Scott Key had 53 teachers. Phalen says he told them kids were going to grow one-and-a-half years per year, academically, and they didn't believe it. So he didn't hire any of them—"because they didn't have the fundamental belief in the kids they were serving." He and principal Agnes Aleobua hired 42 new staff members and had the dingy old school renovated, with new desks, carpeting over the old tile, and bright new paint on the walls. They assigned a teacher and an assistant to most classrooms.
They invested heavily in getting parents involved: having teachers do home visits before school started, hiring parent advocates, creating a breakfast program for fathers and their kids (designed by former Indianapolis Colts coach Tony Dungy), and inviting parents to regular events at school.
When state testing rolled around, the percentage of third graders who passed IREAD—a test for third graders that had not changed—had doubled, from 30 to 61 percent.
Will It Work?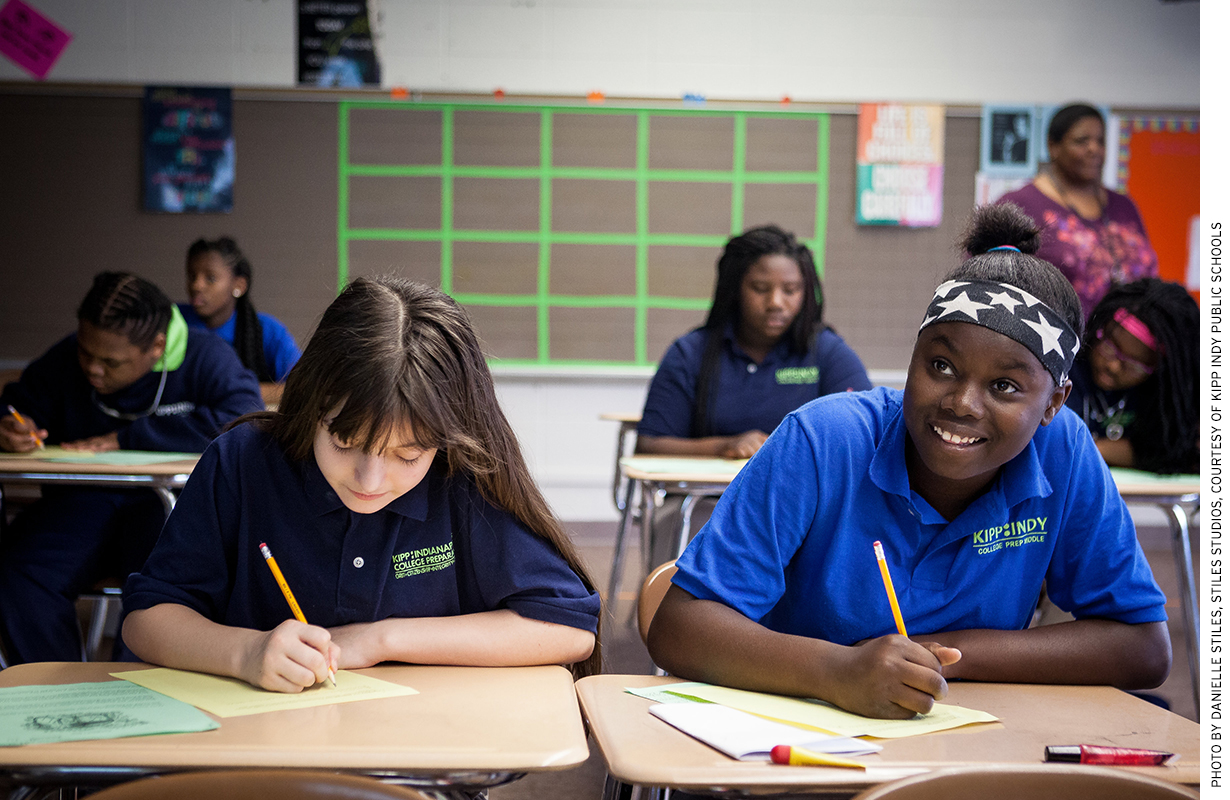 It is still too early to judge the results of the innovation network schools, but there are glimmers of hope in attendance data. At Phalen's school, enrollment increased by 17 percent the first year and 15 percent the second. In the two innovation schools that opened as restarts in 2016, enrollment was up by 20 and 27 percent.
As of 2016-17, more than 10 percent of IPS students attended nine innovation network schools, six of which were also charter schools. As these nine build out their grade levels and four more innovation schools launch in August 2017, that percentage will increase. After another year or two of sustained growth, a full quarter of IPS's students will be in innovation schools.
Meanwhile, Superintendent Ferebee has announced a three-year plan to close several existing IPS high schools. In his first three years, Ferebee estimates, IPS has weeded out 56 percent of its failing schools. "We know those schools, and they exist all across the nation, where every year is a bad year," he says. "The outcomes and challenges of those situations are very steep to overcome for the students and their families. It's typically the neighborhood schools, where students are required to attend. That's a social justice issue, an equity issue. I am of the belief that we get students out of those situations by any means necessary."
There are constant problems to be worked out, acknowledges Aleesia Johnson, a former KIPP principal who oversees the innovation network for Ferebee. Will there be enough money to support the growing number of innovation schools, for instance? The Phalen Leadership Academy, the first restart school, negotiated a generous deal, which included a 10 percent management fee, under the assumption that much of the administrative work would be done by the school, not central headquarters. Later, Ferebee and Johnson realized how expensive that deal would become with multiple schools and quit offering it.
"But if there's no management fee built in, how will the schools support the services that are needed to make sure the schools are great?" Phalen asks. "If you have a break-even deal today, just by the very nature of the cost of purchasing, you're going to be down by 1.5 percent a year, and just by the nature of talent, if you want to retain people," you have to give them raises. "I'm seeing some upside-down deals," with fixed revenue streams for seven years and no management fees. "So I worry about this next class."
And what does IPS do with teachers the innovation schools don't want? The teachers' contract prevents the district from laying people off if their school is replaced by an innovation school. Most of them have found positions at other IPS schools, so far. But when IPS gets to 20 innovation schools, what will it do with the surplus teachers? Right now, if principals at traditional schools still have vacancies on the first day of school, they are forced to take surplus teachers. Unless that policy is changed, the expansion of innovation schools could undermine other IPS schools.
Johnson has confidence that they'll figure it out. Dr. Ferebee, she says, has "created the mindset, 'Figure out how we can do it.' It's never, 'No, we can't do that.' It's, 'Oh, we've never done that, so let's talk about it and figure out how to get it done.'"
"This is all so new," she adds. "We believe we can be a proof point for the country, quite honestly, but we're still new."
Other Initiatives to Create a Twenty-First Century System
Ferebee and the board are rolling out a series of other initiatives. They have created a category of "autonomous schools," which get more control over their budgets and hiring than traditional IPS schools but remain within the teachers-union contract. Ferebee sees autonomous status in part as a transition for principals before they pursue innovation status. He won't force autonomy on principals, he says, but he'll give them all they want. Indeed, in late 2016, he decided to extend budget autonomy to every IPS school. His long-term goal, supported by the board, is to convert all IPS schools to autonomous or innovation schools.
IPS also has a contract with a school-turnaround organization called Mass Insight to work with two failing high schools and their feeder middle and elementary schools in what they call a "Transformation Zone." These schools were all at risk of state takeover, according to school-board president Mary Ann Sullivan. Ferebee has given them some degree of autonomy, and they are developing teacher leaders who teach part time and coach other teachers in their subject matter and grade levels, through a national initiative run by Public Impact called the "Opportunity Culture."
IPS is planning a unified enrollment system for all public schools in the city, including the independent charters, to launch in November 2017. In 2017-18, Ferebee also plans to shift to weighted student budgeting, in which much of the money allocated for children will follow them to the school, and the principal and staff will decide how to use it. Students living in poverty will bring greater resources. IPS is also working with the mayor's office and state charter board to develop a "common performance framework" by which all public schools will be measured. Aleesia Johnson explains that not all schools will be held accountable for the same things, but there will be a common measuring stick.
Finally, Mind Trust, IPS, and the mayor's office are working on "Equity Reports," which will seek to ensure that all public schools serve different types of students equitably. They will be modeled after Washington, D.C.'s Equity Reports, and they will cover all charter, innovation, autonomous, and traditional schools. If they follow D.C.'s format, they will give people information about schools' attendance rates, suspension and expulsion rates, midyear entries and departures, standardized test scores, and graduation rates, all broken down by gender, race, poverty level, and special education status.
The Risks
If all these plans are realized, most public schools in IPS will have the autonomy they need to succeed, and parents will have choices and information with which to make them. Every school will have incentives and the autonomy to continuously innovate and improve, while schools that lag behind will be replaced by stronger models.
Of course, none of this will help the tens of thousands of poor children who attend school in other Indianapolis districts. Some observers worry that all the philanthropic investment in town is going into the center city, while other low-income districts languish.
And IPS's strategy is not without risks. By operating and authorizing schools at the same time, the district is sure to encounter conflicts of interest. When IPS employees compete with charter schools for students, buildings, and funds, will the elected school board be able, over time, to treat them equally and let the chips fall where they may? If IPS employees get angry, it could be politically dangerous for board members. Will they be tempted to go easier on district-operated schools full of their employees as a result?
A second risk, says EdChoice President Robert Enlow, is that charter operators "stop doing independent charters and go straight to innovation network schools," because they can get a better financial deal that way. Then, when the political winds shift or if there is some kind of scandal at an innovation school, the board could nibble away at their autonomy. Enlow also worries that the district bureaucracy could gradually undermine this autonomy, as has happened in other cities. So far, there has been conflict during negotiations over the schools' contracts, says David Harris—particularly over which buildings they will get—but few problems after the contracts are signed.
The contracts will protect schools for a few years. But a hostile board could refuse to renew them or to allow continued use of its the district's buildings. It would take a change in state law to undermine independent charters, but to undermine innovation schools, all it would take is a reversal of the school board majority. Enlow still supports the innovation-schools initiative, but he points to the danger: "What makes us think we can get good school boards down the road?"
For now, the board majority for reform is solid. Last fall, reformers who support Ferebee won three of the seats, and a former board president who falls somewhere between the reformers and their opposition won the fourth.
The next few years will be critical: if Ferebee can produce results, Indianapolis's innovation school model could have an enormous impact nationwide. In most places it is politically easier, after all, to create in-district innovation schools than independent charter schools.
Indianapolis is fortunate to have a superintendent who knows, from his personal experience, the value of giving schools autonomy and holding them accountable for results—a rare commodity in the world of superintendents. His presence, and the board members who hired him, make Indianapolis a city to watch.
David Osborne leads the Reinventing America's School project at the Progressive Policy Institute. His new book, Reinventing America's Schools: Creating a 21st Century Education System, will be published in September.