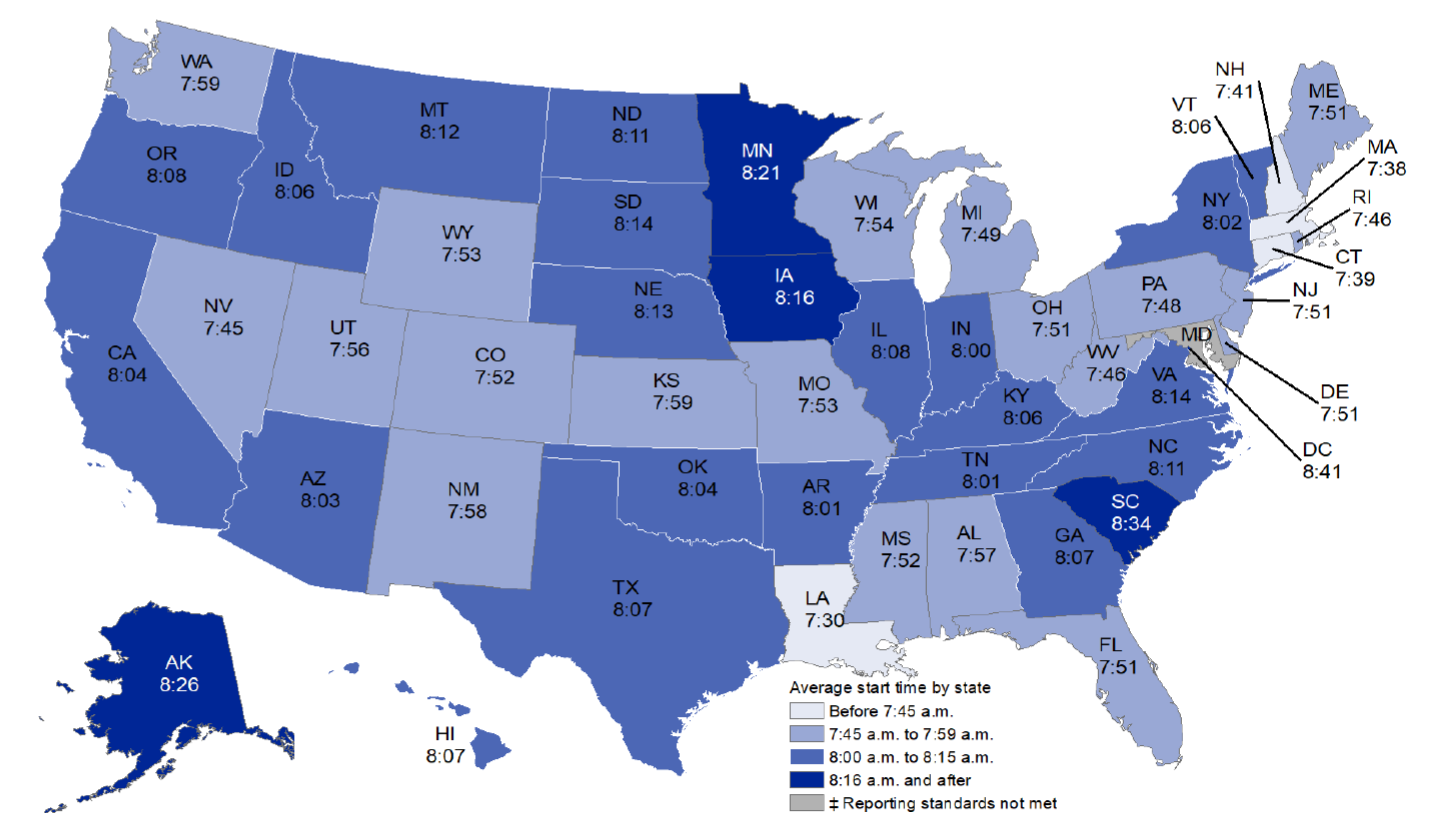 The National Center for Education Statistics has issued a new "data point" reporting on the school start time for public high schools in the U.S., using data from the 2017-2018 National Teacher and Principal Survey. The federal agency reported that school starts later in some places than in others: "High school began, on average, at 8:16 a.m. in Iowa, followed by 8:21 a.m. in Minnesota, 8:26 a.m. in Alaska, 8:34 a.m. in South Carolina, and 8:41 a.m. in the District of Columbia." The outliers on the early side? "High schools in four states (Connecticut, Louisiana, Massachusetts, and New Hampshire) reported their average starting time as being before 7:45 a.m. High school began, on average, at 7:30 a.m. in Louisiana, followed by 7:38 a.m. in Massachusetts, 7:39 a.m. in Connecticut, and 7:41 a.m. in New Hampshire." (Perhaps the three New England states are following Ben Franklin's "early to bed…" advice, or just scheduling school so that it lets out before dark sets in during the winter.)
"The average high school starting time in all other states fell between 7:45 a.m. and 8:15 a.m," says the NCES data point, authored by Holly Sawyer and Soheyla Taie of Westat.
In the Summer 2019 issue of Education Next, Jennifer Heissel and Samuel Norris wrote ("Rise and Shine") about how school start times affect academic performance. Heissel also appeared on the EdNext Podcast to discuss the article. In the same issue, Danielle Dreilinger wrote "How To Make School Start Later," an article with practical advice for districts, or sleepy students, hoping to bring about change.
Education Next also tackled this topic in Summer 2012, in the article "Do Schools Begin Too Early? The effect of start times on student achievement," by Finley Edwards. Edwards also appeared on the EdNext Podcast to discuss that article.
— Education Next
Last updated February 12, 2020