Not sure which book to buy the educator or education policy wonk in your life? Let us help you choose.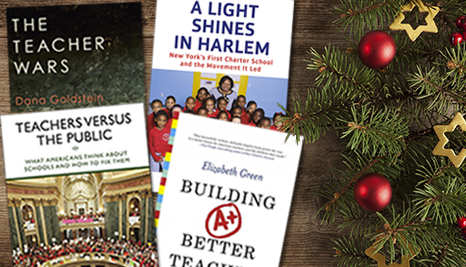 The Teacher Wars, by Dana Goldstein, is reviewed by Jal Mehta here. And Mike Petrilli interviews Dana Goldstein for the Ed Next book club podcast here.
Building a Better Teacher, by Elizabeth Green, is reviewed by David Steiner here. Mike Petrilli interviews Elizabeth Green for the Ed Next book club podcast here.
More books:
Blended: Using Disruptive Innovation to Improve Schools, by Michael B. Horn and Heather Staker, reviewed by Mark Bauerlein
A Light Shines in Harlem: New York's First Charter School and the Movement It Led, by Mary C. Bounds, reviewed by Nathan Glazer.
Teachers Versus the Public: What Americans think about schools and how to fix them, by Paul E. Peterson, Michael Henderson, and Martin R. West, reviewed by David Steiner.
Lost Classroom, Lost Community: Catholic Schools' Importance in Urban America by Margaret F. Brinig and Nicole Stelle Garnett, reviewed by Nathan Glazer.
You can hear more interviews with authors of new and classic books about education on the Education Next Book Club podcast page here, including an interview with Laurence Steinberg about his book, Age of Opportunity: Lessons from the New Science of Adolescence.
-Education Next