The nine-month school year dates back to the 1800s. It was developed to instill uniformity in public education.
Schools became assembly lines, with children progressing from one grade to the next based on time spent in a classroom, the simplest way for adults to measure progress. Massive bureaucracies formed around this approach, entrenching the past in the present and putting roadblocks in front of the future.
That this system is not working for far too many children is of secondary concern because millions of adults employed in public education are vested in it. They all have their position on the assembly line. And so we deal with children as groups to be processed rather than as individual learners to be nurtured.
Some have argued that we should address widespread academic failure by making the school day longer or the school year longer. Others have suggested breaking up one long summer vacation into shorter breaks during the year.
All this does is tinker with an anachronism. Students of varying abilities still will sit in a classroom for a pre-determined period to learn the same amount of material. This is equivalent to putting 1,000 high school students on the starting line and expecting them to finish a mile run in the same time.
We need to flip this approach in the other direction. Throw away the calendar, and make time the variable and knowledge the constant. When a student demonstrates he has learned the material, let him move on. If he is struggling, allow him more time.
That may not have been practical in the 19th century. But it certainly is in the Information Age, where technology allows for a more personalized approach to education just as it allows a more personalized approach to every other facet of our lives.
Digital learning is improperly portrayed as a replacement for teachers when in fact it is a tool that enhances what teachers do. It greatly increases efficiency because every day spent in a classroom is spent on gaining new knowledge. The high performers aren't twiddling their thumbs and the low performers aren't headed for remediation or grade retention because their time to master the material is up. That system only contributes to expense, frustration, under-performance and failure.
For the digital model to work, however, parents must be assured their children's data will be secure. There must be high academic standards, objective measures of student progress and accountability for providers.
Families must have more control over their children's education so they can avail themselves of the growing number of digital alternatives. And that means giving them more control over the education dollars spent on their children – a threat to unions, bureaucracies and others vested in controlling options and funding.
Grade levels must become less rigid. A middle school math whiz may well move through geometry and Algebra 2 by the end of eight grade, but still work at grade level in language arts. Such are the strengths and weaknesses of individual kids. And up until now, we haven't had the ability to design an education system with the flexibility to adjust to those differences.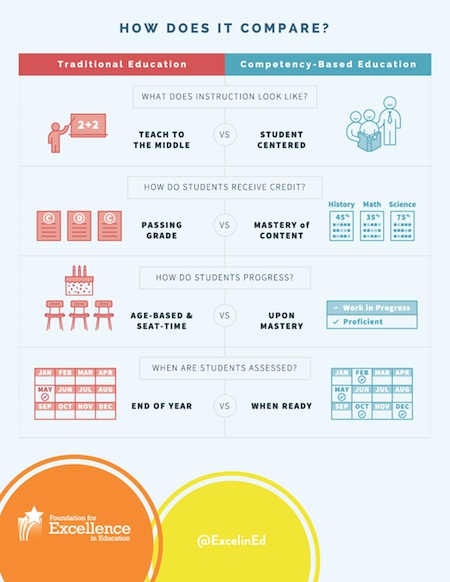 Obviously there are major issues to resolve, but we are seeing more states move in the direction of competency-based education. For example, Arizona has adopted Move on When Ready, which allows participating students to progress as they demonstrate mastery of the curriculum.  In Florida, qualifying students can participate in the Academically Challenging Curriculum to Enhance Learning program, giving them access to accelerated instruction.
The Digital Learning Report Card looks at these programs and others adopted by other states to expand competency-based education.
By learning from each other, we can accelerate progress, advance student achievement in a cost-efficient manner and move closer to the goal of transitioning our 19th century education system out of the classroom and into the museum.
—Patricia Levesque
Patricia Levesque is the Chief Executive Officer for the Foundation for Excellence in Education. She served as Governor Jeb Bush's deputy chief of staff for education, enterprise solutions for government, minority procurement and business and professional regulation. Previously, Patricia served six years in the Florida Legislature in the Speakers Office and as staff director over education policy.