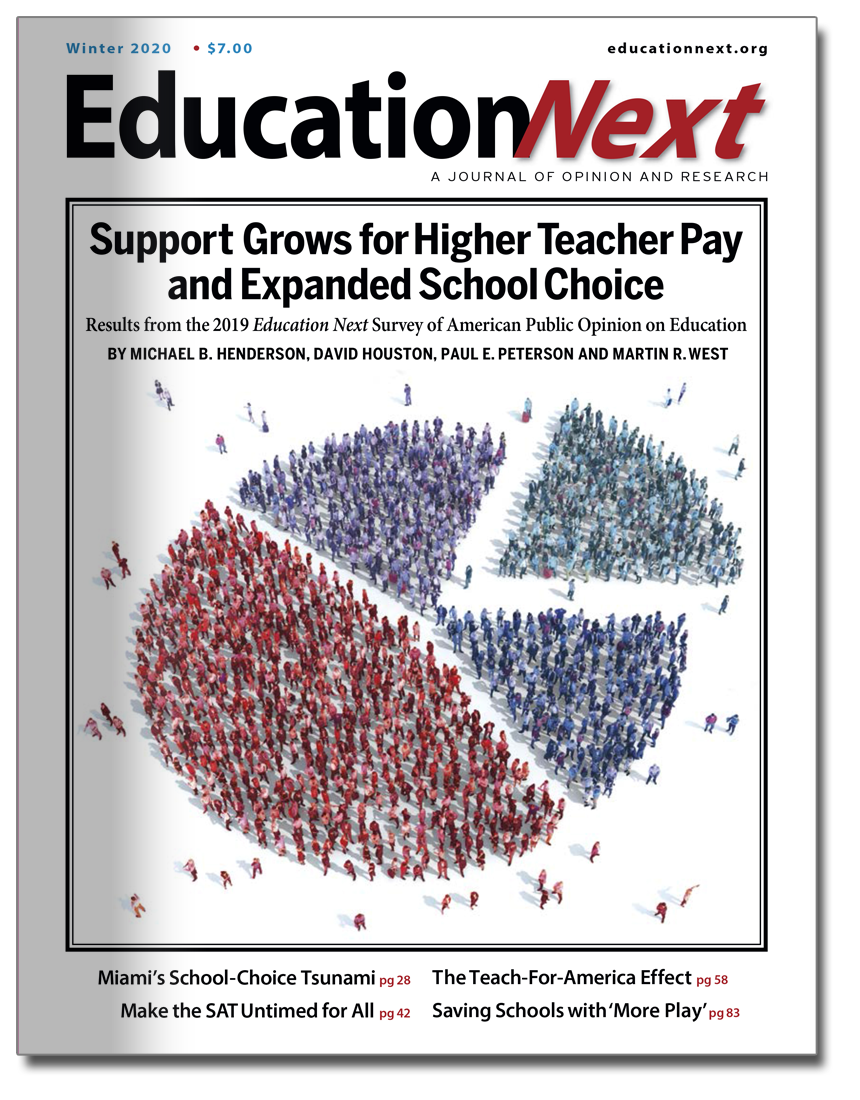 The cover story of our Winter 2020 issue presents findings from the 2019 Education Next Poll, revealing that support for raising teacher pay is higher now than at any point during the past decade. On school choice, Democrats are divided along racial and ethnic lines. For the first time, we present the views of high school students on school safety, testing, and more.
In a new research article, Katharine Conn, Virginia S. Lovison, and Cecilia Hyunjung Mo report that participation in Teach for America significantly shapes alumni's beliefs about educational inequity, the teaching profession, and education reform initiatives.
As requests for more time on the SAT soar and we await the latest developments in the "Varsity Blues" scandal, Greg Toppo highlights one possible solution to the problem of gaming the SAT: making the test untimed for everyone.
Also in this issue, an investigation into the implementation and oversight of online credit-recovery classes; a look at how Miami-Dade Superintendent Alberto Carvalho championed choice in the nation's fifth-biggest school district; and a forum debating the merits and risks of linking higher-education funding to degree completion rates.
See the full list of contents below.
---
FEATURES
Public Support Grows for Higher Teacher Pay and Expanded School Choice
Results from the 2019 Education Next Poll
By Michael B. Henderson, David M. Houston, Paul E. Peterson and Martin R. West
Miami's Choice Tsunami
Carvalho, Competition, and Transformation in Miami-Dade
By Ron Matus
Support Builds for Making the SAT Untimed for Everyone
A Possible Solution to the "Gaming The System" Problem
By Greg Toppo
A Digital Path to a Diploma
Online Credit-Recovery Classes Are a Lifeline—and Ripe for Abuse
By David Loewenberg
RESEARCH
How Teach For America Affects Beliefs About Education
Connecting Classroom Experience to Opinions on Education Reform
By Katharine M. Conn, Virginia S. Lovison and Cecilia Hyunjung Mo
FORUM
Should Congress Link Higher-Ed Funding toGraduation Rates?
Debating the Use of Degree Completion as an Accountability Metric
Performance-Based Funding Produces Mixed Results
By Robert Kelchen
Congress Must Address Dismal Dropout Rates
By Lanae Erickson
FROM THE EDITOR
Democrats Dodge a Charter Question—and for a Reason
By Martin R. West
LEGAL BEAT
Supreme Court Partially Junks a Lemon
By Joshua Dunn
BOOK REVIEWS
The Schoolhouse Gate: Public Education, the Supreme Court,
and the Battle for the American Mind
By Justin Driver, as reviewed by Michael W. McConnell
The Knowledge Gap: The Hidden Cause of America's Broken
Education System—and How to Fix It
By Natalie Wexler, as reviewed by Robert Pondiscio
Let The Children Play: How More Play Will Save Our Schools
and Help Children Thrive
By Pasi Sahlberg and William Doyle, as reviewed by Chester E. Finn, Jr.
WHAT NEXT
A Certificate, Then a Degree
By Clark G. Gilbert and Michael B. Horn
SCHOOL LIFE
'You Can't Un-Look at It': Teach For America CEO Elisa Villanueva Beard Explains the Program's Effect on Teachers, Including Herself