Five years ago, a commission appointed by the archdiocese recommended closing or consolidating almost 50 Catholic schools in Philadelphia. But two nonprofits stepped up and offered to run some of those schools, and the state approved a tax credit program that would support scholarships to private schools. As Naomi Nix explains in The 74
The result: Two outside organizations have managed to turn around a centuries-old school system using modern-day business practices — a feat that few dioceses around the country have been able to accomplish.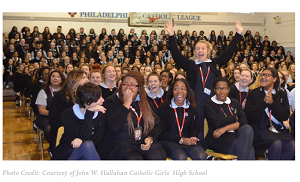 Nix's article takes a close look at one of the two nonprofits, Faith in the Future, which is run by Samuel Casey Carter.
While preserving traditional Catholic education, with its rigorous academics and deep religious roots, was a must, Carter was also determined to add education reform elements of the type found in the charter schools that have given the archdiocese's schools such stiff competition.

To raise academic standards, the foundation started focusing on digital assessments to track students' progress in reading and math against national norms three times a year. Those scores are used to identify groups of students who might need extra support in, say, critical reading and offer more professional development to their teachers.

Carter is also open to having students at foundation schools take state standardized tests, which Catholic school students in Philadelphia currently do not do.

Going forward, the foundation wants to continue to look at ways the network can support the schools' individuals needs — whether it's technology upgrades, social services, or more educator training.
In an article for Education Next, "Innovation in Catholic Education," Andy Smarick and Kelly Robson look at a few different new approaches to governance and instruction that are being used to revitalize Catholic schools.
–Education Next