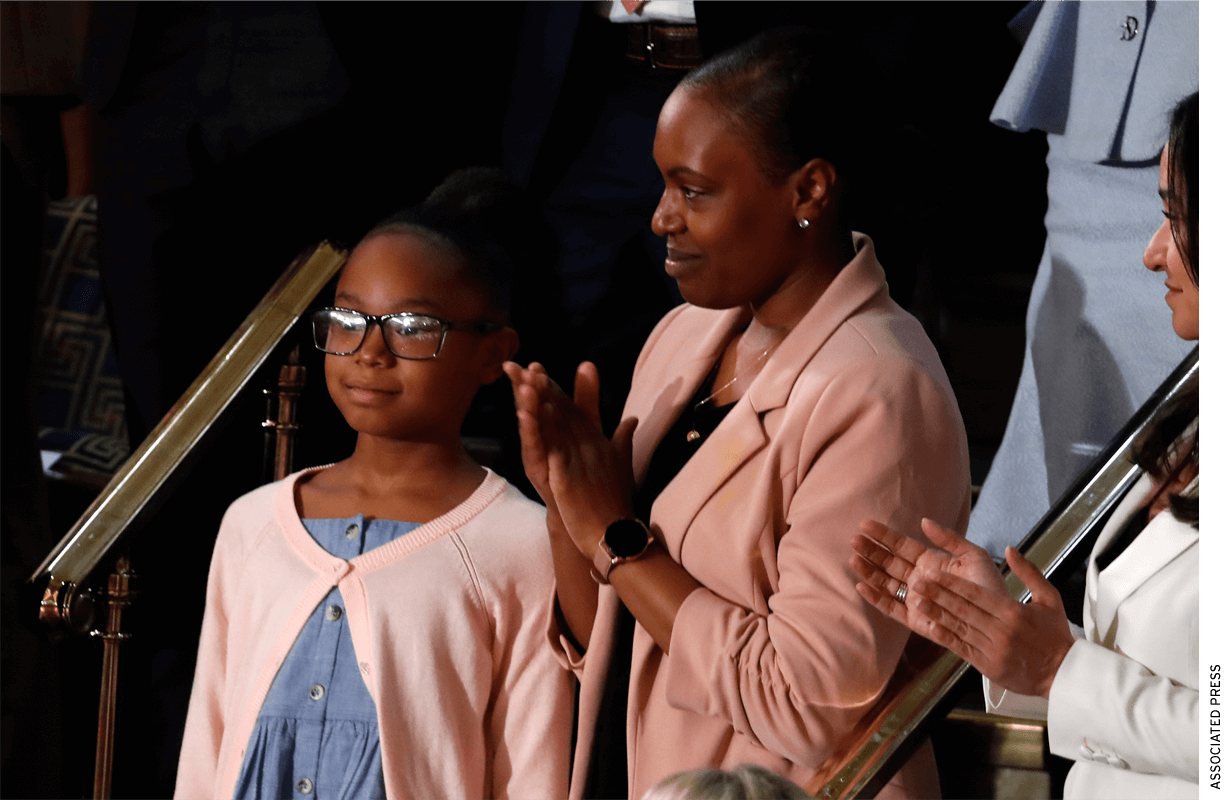 President Trump devoted a substantial passage of his State of the Union Address this week to a call for federal legislation to expand school choice.
From the White House transcript of the speech:
The next step forward in building an inclusive society is making sure that every young American gets a great education and the opportunity to achieve the American Dream. Yet, for too long, countless American children have been trapped in failing government schools. To rescue these students, 18 states have created school choice in the form of Opportunity Scholarships. The programs are so popular that tens of thousands of students remain on a waiting list.
One of those students is Janiyah Davis, a fourth grader from Philadelphia. Janiyah. (Applause.) Janiyah's mom, Stephanie, is a single parent. She would do anything to give her daughter a better future. But last year, that future was put further out of reach when Pennsylvania's governor vetoed legislation to expand school choice to 50,000 children.
Janiyah and Stephanie are in the Gallery. Stephanie, thank you so much for being here with your beautiful daughter. Thank you very much. (Applause.)
But, Janiyah, I have some good news for you, because I am pleased to inform you that your long wait is over. I can proudly announce tonight that an Opportunity Scholarship has become available, it's going to you, and you will soon be heading to the school of your choice. (Applause.)
Now I call on Congress to give one million American children the same opportunity Janiyah has just received. Pass the Education Freedom Scholarships and Opportunities Act — because no parent should be forced to send their child to a failing government school. (Applause.)
With Democrats in control of the House of Representatives, passing the Education Freedom Scholarships and Opportunity Act seems like a long shot. The bill, which provides $5 billion in federal tax credits for contributions to state scholarship funds, has amassed 106 cosponsors, but as of now they are all Republicans. The assistant secretary for planning, evaluation, and policy development at the U.S. Department of Education, Jim Blew, appeared in March 2019 on the EdNext Podcast to discussion how the tax credit would work.
Other education policy nods in the speech included a presidential plea "to offer vocational and technical education in every single high school in America," and an assertion that "My administration is also defending religious liberty, and that includes the constitutional right to pray in public schools." That right has its limits; in the 1962 case Engel v. Vitale, the Supreme Court ruled 6-1 that a government-composed prayer said aloud by a New York public school class violated the First Amendment's prohibition on establishing an official religion.
The meatiest education policy piece of the speech was the opportunity scholarship section of it, but even that probably is best understood as much in the context of the 2020 presidential campaign as in the context of federal education policy. Trump chose to focus on a student in Pennsylvania, which he also mentioned (along with Ohio and Wisconsin) in a passage of the speech about curbing the opioid epidemic. It's a swing state in presidential elections. Janiyah and Stephanie Davis are black, and, as Trump's Super Bowl ad and other aspects of the State of the Union speech made clear, Trump is pushing to attract black voters, which, as Annie Karni and Maggie Haberman observed in the New York Times, "could also have the effect of reassuring white suburban women, a worrisome demographic for the campaign, that the president is not racist."
In that sense, Trump's 2020 State of the Union address had distinct echoes of the October 6, 1996 presidential debate between Robert Dole and President Bill Clinton. Clinton attacked: "Senator Dole voted against student loans, against Headstart, against creating the Department of Education. If he gets elected president, we'll start the new century without anyone in the cabinet of the President representing education in our children. I personally don't think that's the right kind of future for America."
Moderator Jim Lehrer asked Dole whether he still favored eliminating the Department of Education.
Dole replied: "Yes. I didn't favor it … I voted against it. It was a tribute after President Carter's election to the National Education Association who send a lot of delegates to the Democratic convention… a lot of the teachers send their kids to private schools or better public schools. So what we want to do is called opportunity scholarships. … It seems to me that we ought to take that money we can save from the Department of Education, put it into opportunity scholarships and tell little Landel Shakespeare out in Cleveland, Ohio, and tell your mother and father, you're going to get to go to school because we're going to match what the state puts up, and you're going to go to the school of your choice. I don't fault the President or the vice president for sending their children to private schools or better schools. I applaud them for it, I don't criticize them. But why shouldn't everybody have that choice? Why shouldn't low income Americans and low middle income Americans. I'm excited about it. It's going to be a big, big opportunity for a lot of people…. Why can't Landel Shakespeare in Cleveland or Pilar Gonzales in Milwaukee give their children an opportunity to go to a better school?"
There's been a lot of talk about how Trump is different from conventional Republicans, and about how the contours of the national education debate have shifted since the mid-1990s. Some of that talk is certainly true. But it's also true, and also worth keeping in mind, that there is plenty of continuity, too, in the language of "opportunity scholarships" and in the election-year strategy of highlighting minority students in swing states. The challenge for the education reform movement is to make these programs something that's a priority for Republicans not only in the years before elections but in the years immediately after them, when newly elected presidents have the best opening to enact legislation.
Ira Stoll is managing editor of Education Next.