On Monday, I published my annual list of the top education policy twitter feeds. It hit a nerve. And for that, I'm grateful, because I immediately heard from the twitterverse that I overlooked some important people. Here I attempt to correct my oversights with the latest and greatest list for 2013. (It reflects Klout scores and followers as of August 13, 2013.)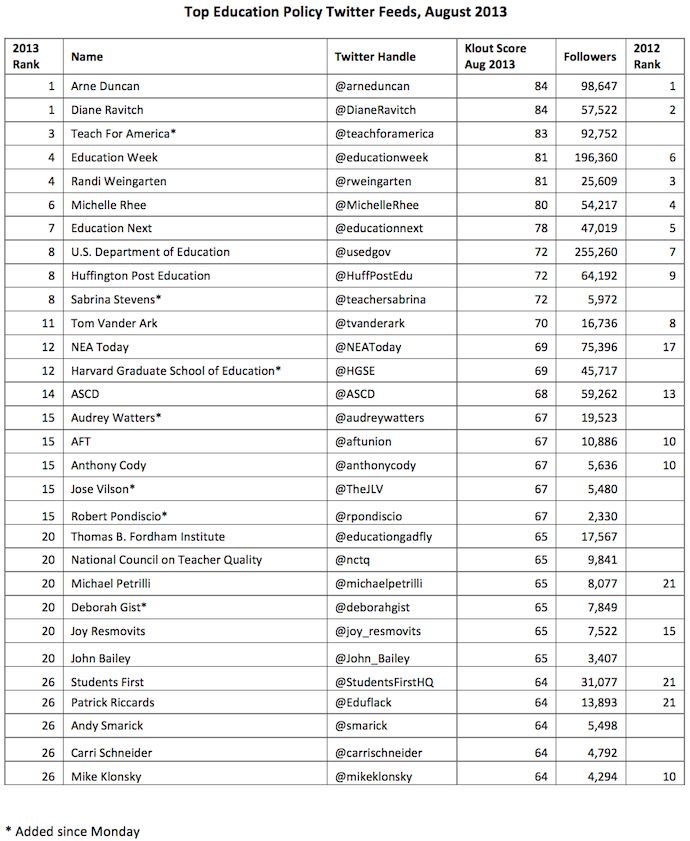 Most of the people originally left off the list are teachers. Two years ago, when I wrote about top tweeters, I posted two lists: One for education policy wonks, and another for teachers. As for the latter, I focused on teachers who mostly tweeted about, well, teaching: sharing lesson plans, teaching tips, and (most often) ideas for integrating technology into the classroom. (Technology like Twitter!)
But what about teachers who tweet mostly about education policy and education reform? This has become much more common, it seems to me, and these folks (such as Sabrina Stevens, Audrey Watters, and Jose Vilson) clearly belong on my ed policy list. As they are now.
The other day I bemoaned the fact that my list had so few women (less than 30 percent) and zero African-Americans or Latinos. The additions (and subtractions) since then have led to somewhat more balanced list. Forty-four percent of the 18 individuals on the updated list are women, and 11 percent are African-Americans or Latinos.
Am I STILL forgetting someone? Let me know. As I'm sure you will!
—Mike Petrilli