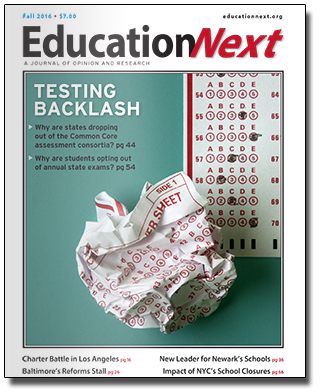 Our Fall 2016 issue examines surprising contradictions in school reform. Although 38 states have left one or both of the assessment consortia aligned to the Common Core, the vast majority of departing states have held on to the Common Core standards. Meanwhile, thousands of students refused to sit for state assessments again this year, a phenomenon that has captured widespread media attention. But new analyses of the opt-out movement shed light on who is opting out and why, and just how significant the movement really is.
Despite public protests that school closures in New York City would harm students, a new research article shows the policy actually benefited rising ninth graders. In the Bronx, Icahn Charter Schools are lifting student achievement using a content-rich curriculum that some experts had cautioned was not "well-suited" to the school's student population.
Not all surprises offer good news. In Los Angeles, families have embraced the city's growing number of high-performing charter schools, with more than 40,000 students waitlisted for enrollment. But a leaked plan to double the number of charters in the city has triggered a battle with the district and the local union over further expansion. And in Baltimore, an attempt to give school leaders greater autonomy with greater accountability fell short, leaving principals feeling demoralized rather than empowered.
Also in this issue, a profile of how Newark's new superintendent is building trust in a district plagued by conflict; an assessment of whether 3-D technology will break through to the educational mainstream; and an update on transitions underway both at Education Next and in American education.
See the full list of contents below or at https://www.educationnext.org/journal.
---
TABLE OF CONTENTS
Features
Content-rich curriculum drives achievement at Icahn Charter School
By Charles Sahm
Ed Reform Battle in Los Angeles
Conflict escalates as charter schools thrive
By Richard Whitmire
Incomplete Reform in Baltimore
A shift in authority to school leaders falls short
by Betheny Gross and Ashley Jochim
To protect reform, Chris Cerf builds collaborative relationships
By Richard Lee Colvin
The Politics of the Common Core Assessments
Why states are quitting the PARCC and Smarter Balanced testing consortia
by Ashley Jochim and Paul McGuinn
Forum
Making Sense of the Opt-Out Movement
Education Next talks with Scott Levy and Jonah Edelman
Research
School Closures in New York City
Did students do better after their high schools were closed?
By James J. Kemple
From the Editors

by Martin R. West
Legal Beat

by Joshua Dunn
Book Reviews

Grit: The Power of Passion and Perseverance by Angela Duckworth & Helping Children Succeed: What Works and Why by Paul Tough
As reviewed by Jay P. Greene
The Battle for Room 314: My Year of Hope and Despair in a New York City Classroom by Ed Boland & The Secret Lives of Teachers by Anonymous
As reviewed by David Steiner
What Next

by Michael B. Horn
School Life

by Matt Candler