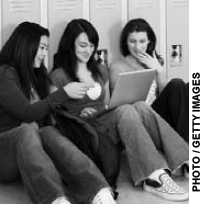 I received the notice via snail mail, interestingly enough, that my 9th-grade summer school students would each arrive with an Apple iBook in tow. The attached questionnaire asked how comfortable I felt with technology in the classroom, and might I possibly need a refresher course if I marked the box next to "What is a laptop?"The incoming freshmen are the first class to enter this high school under the One to One program, one computer for every student. These kids were born with technology surrounding them and take the World Wide Web for granted. Many of their teachers, however, have had to learn these new school tricks.
I marked the box "Adequate Knowledge." I knew how to surf to my favorite web sites and have been known to give a PowerPoint presentation when the stars and planets were in perfect alignment. I'll admit I did wonder that first day, when each student unsheathed a sleek, white laptop from an aerodynamic black computer case, whether my old-school teaching moves could compete. Every subsequent morning was the same. Instead of pencil and paper, computers stood at the ready, screens up.
I wanted my students to know that their teacher was no tech slouch. I wrote my e-mail address on the whiteboard and told my students offhandedly that they could e-mail the homework. They quickly called my bluff. That first night, I received 19 e-mails and 19 attachments.
I have adapted. I've figured out how to write comments on the documents they send and, more impressively, mail each one back to the author. I use my "caps lock" key for this, although I was reminded by a visibly upset student one morning that using all capital letters online is read as shouting these days. I suppose my students will have to adapt to my daily rants.
There are obvious benefits to having technological aids at the fingertips of every student. Word meanings and origins are available within seconds. Quickly scribbled lecture notes no longer need to be deciphered later on. But there are also some drawbacks.
Yesterday, one of my students dropped his laptop on the floor. A stunned silence filled the room. Ever so lovingly, he gathered the fallen computer and flipped his screen up while the rest of us watched in horror, mouths agape. He reported somberly, "Yup, the screen is broken." This was a loaner computer, mind you. His own laptop was already in the school IT repair shop.
Excuses have evolved. The dog ate my homework doesn't cut it anymore. Three of my students pleaded with me for an extra day to complete a major project, citing "lack of power." (I assume they were referring to computer power.) We have all experienced the pain of technological malfunction. How can I not be sympathetic to their sob stories?
Back in the day, or last summer to be more precise, teachers were afforded at least a 24-hour cushion for returning student work. With the advent of e-mailed homework, I feel as if I've opened Pandora's inbox. If I receive a paper Saturday evening, I feel a burning need to grade it and respond with comments as quickly as possible, no matter what other plans I have. In short, the school week has become a seven-day week for student and teacher alike.
Technology is here to stay. I've requested mirrors for the walls of my classroom so that I can see who is IM-ing whom. In the meantime, when I see a student laughing while supposedly looking at a web site I know is not funny, I can go old school on him. Instead of "pencils down," though, the new phrase is "screens down!" Yeah, I can handle technology in the classroom.
Ian Earle teaches Spanish at Punahou School in Honolulu, Hawaii.