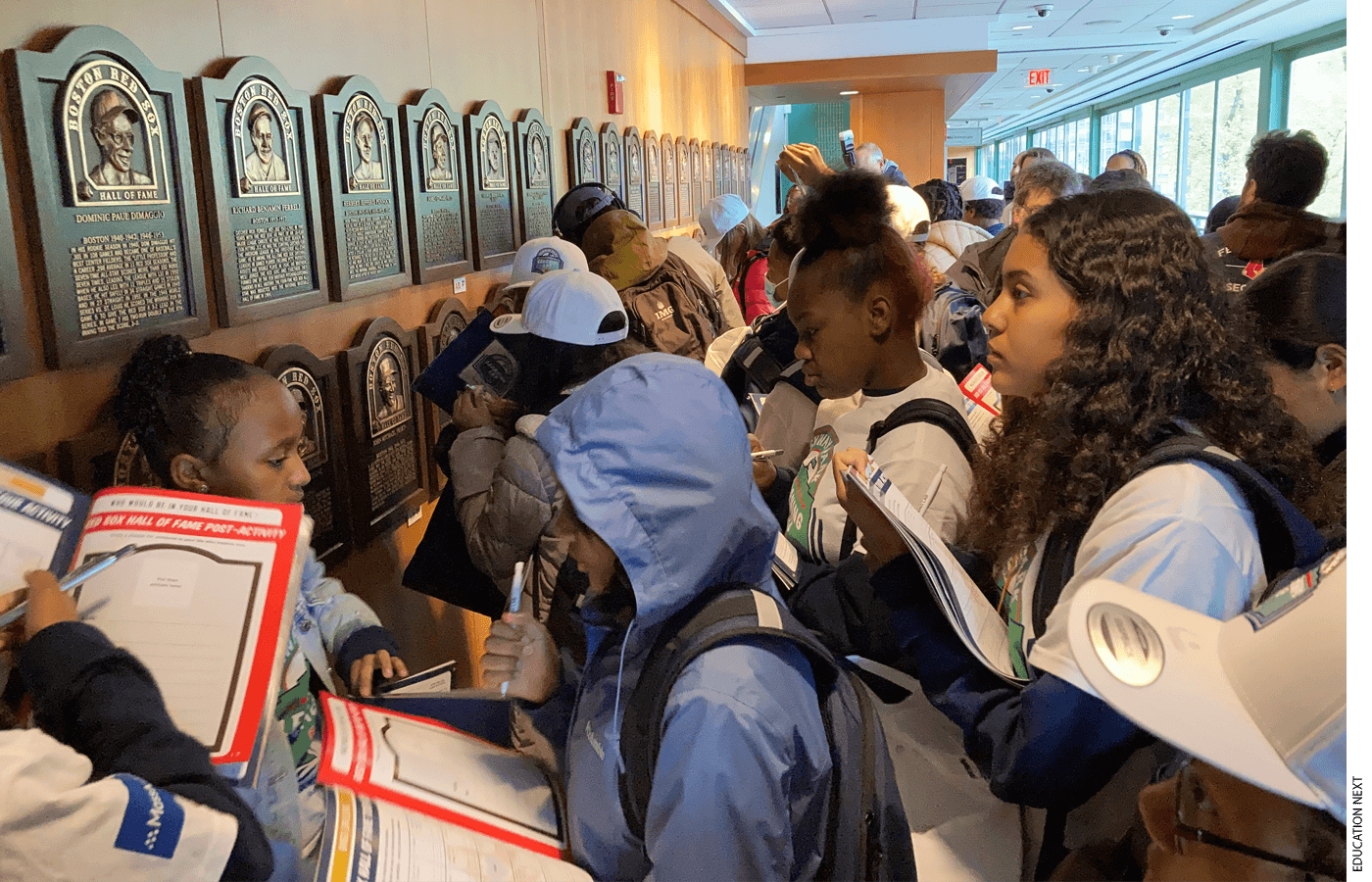 A class of 6th graders from the Nathan Hale School in Boston's Roxbury neighborhood listened intently as Linda Henry explained how her husband John Henry's childhood interest in baseball statistics had inspired a love of math that fueled his career, from a card-counting blackjack system to a statistically based commodities company to, eventually, owning the Red Sox.
Then the students heard the head of MassMutual U.S., Mike Fanning, talk about how he had lived as a kid with his immigrant grandparents, who taught him that "America is a land of opportunity," and that "the key to unlock opportunity is education and hard work."
Fanning described how Henry and the ownership group that bought the Red Sox in 2002 used data analytics to help the team win four World Series victories, breaking a dry spell that had dated back to 1918. "Be curious, and be a lifelong learner," he advised the students.
And then, after a surprise visit from Red Sox third baseman Rafael Devers, who earlier this year signed a $331 million, 11-year contract extension with the team, the students went off on the first-ever tour of what the team is calling the Fenway Park Learning Lab.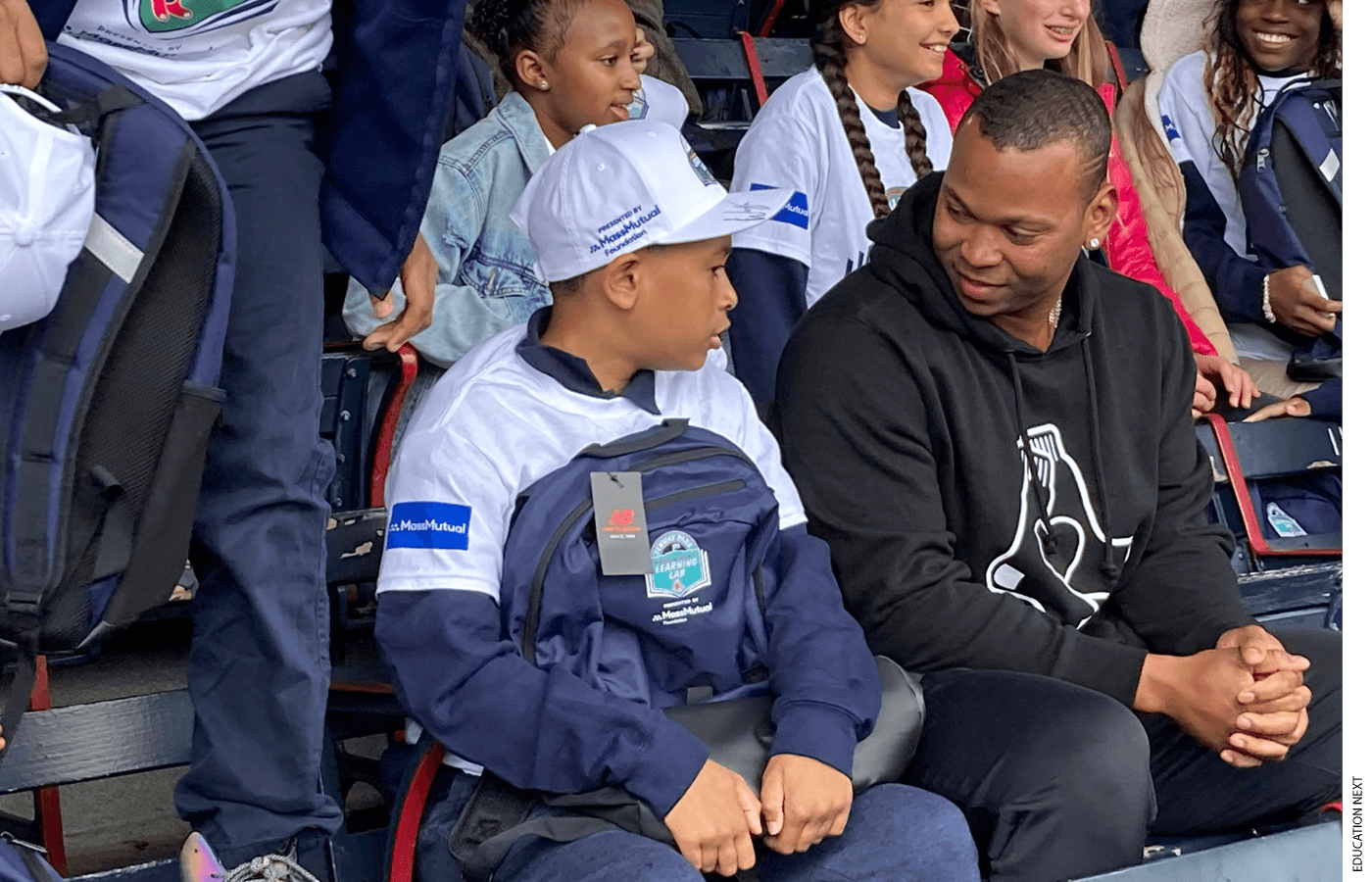 The Red Sox Foundation and the Mass Mutual Foundation plan to start with 1,000 students this year and ramp up over the next 4 years so that every Boston Public Schools 6th grader visits the ballpark for the educational experience. The district currently enrolls 2,852 6th graders, according to the state Department of Elementary and Secondary Education.
The six-stop tour has students learning history, geography, math, and science. Student visitors get baseball caps, t-shirts, and a backpack full of other souvenir items like baseball cards, binoculars, a calculator, and a pen. The most important piece of equipment may be a 40-page, seriously substantive workbook, developed with the Boston Public Schools, that students work their way through along the hourlong guided tour.
A baseball stadium turns out to be surprisingly fertile ground for teaching a wide range of subjects. Looking at the Red Sox win-loss record on the manually operated scoreboard on the left field "Green Monster" wall, students are asked to figure out how many games the team has played, and the team's winning percentage. A stop at the Red Sox Hall of Fame has students reading the text on the historic plaques—and writing a plaque "for someone in your life who inspires you." The turnips, arugula, scallions, and swiss chard growing in 2,400 milkcrates in the rooftop "Fenway Farms" are an occasion for a brief science lesson about oxygen and carbon dioxide. During a visit to the Fenway press box, students look at maps to locate the home countries and states of Red Sox players. History, and the integration of baseball, comes up when students peer out at the number 42 posted at Fenway in memory of Jackie Robinson. Financial literacy is taught by having students budget a meal based on a Fenway concession menu.
Fenway has been open to guided visits by paying tourists for years. The tour guide for the Hale School students, David Ranen, had more than 40 years of experience as an educator, 39 of them working for the Amherst-Pelham School District in the Pioneer Valley of Western Massachusetts. He has served as a music teacher and guidance counselor and seemed quite comfortable questioning the students, keeping their attention, and leading the students through the educational activities.
Seven or eight of the students, and Hale school principal Candice Whitmore, raised their hands to indicate it was their first time ever inside Fenway Park. It was a reminder that for the Red Sox, the program might work not only as a way to help its hometown but also as a way to cultivate a new generation of fans.
The executive director of the Red Sox Foundation, Bekah Salwasser, responded to a question from Education Next in a telephone interview in advance of the May 4 event by saying that the foundation would be open to expanding the opportunity beyond Boston Public Schools district. With additional funding and staffing, she said, the program could "ideally spread far and wide," to also include charter and parochial school students, and perhaps even those outside Boston or Massachusetts, as far away as Maine or Connecticut. "Red Sox nation is everywhere," she said.
A 2014 Education Next research article found educational benefits of a field trip to an art museum. This program is too new to evaluate, but if the effects of early, inspirational exposure to baseball statistics on Boston public school 6th graders are anything like what they were on John Henry, the impact may be both significant and positive.
Ira Stoll is managing editor of Education Next.