The Trump administration has championed private school choice, but critics have pushed back, bolstering their arguments with evidence that such programs can lower student test scores. Our new report on a Florida private school choice program complicates this policy debate.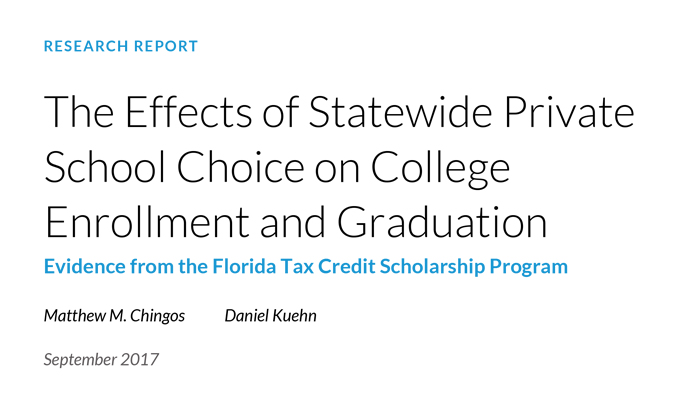 Low-income students who used public dollars to attend private schools through the Florida Tax Credit (FTC) scholarship program enrolled in college at higher rates than their public school counterparts, according to our new study of more than 10,000 FTC participants. The FTC program, which is essentially a voucher program funded by business tax credits, is the largest private school choice program in the country and has been held up as a national model by advocates and policymakers.
These results are certainly a bright spot for proponents of expanding access to private school for disadvantaged children. But there is risk of overstating results from any single study, especially on issues as controversial and polarizing as private school choice. Here's what we think our new study means—and doesn't mean—for both state-led and federal efforts to expand school choice.
Private school choice works, but it's not for everyone
Our study shows that private school choice can make a difference for disadvantaged students. Students in the FTC program, despite coming from low-income families, enrolled in Florida public colleges at almost the same rates as the average student in Florida, regardless of income. The FTC program was particularly beneficial for students born outside the US, although all student demographic groups we examined benefited from the program.
But the fact that attending a private school worked for the average low-income student in the FTC program does not mean it will work for everyone, nor that all private schools are better than all public schools.
The FTC program enrolls less than 4 percent of all Florida students. We suspect that these families who choose a private school do so because they believe it will be the best fit for their child. And many change their mind: a large share of participants (37 percent in our study) leave the program after participating for only one year, whether because of a poor fit, a change in family income, or something else.
For students who stay in the program, the data suggest that large effects accrue. We find that college enrollment rates increase for each year a student spends in the program, and effects are especially large for those who participate for three, four, or more years. We suspect that students who stay are those who are benefitting the most, as we hope would be the case in a system of choice.
Should private school choice go national?
That FTC increases college enrollment raises the question of whether federal policymakers should make this benefit available to more low-income students nationwide. But enacting a national policy is fraught with design decisions, and getting the federal government involved in an issue that has traditionally been the purview of states and districts runs risks.
Federal policymakers would have to decide between a program that would potentially crowd out existing state funding for private school choice and one that would target money to states without choice, which might seem unfair to states with existing programs. Federal involvement also carries political risks for private school choice, as the Obama administration learned through its efforts to promote Common Core standards and more robust teacher evaluation systems.
Our study provides little guidance on how to design a federal policy that would surmount these challenges. It also does not address questions that empirical research cannot answer, such as whether public money should flow to religious schools, or whether all participating schools should comply with antidiscrimination rules aimed at protecting LGBT and other vulnerable students.
Federal action may carry more risks than rewards. Private school choice is already spreading across the country, with states tripling the number of programs over the last decade to more than 60 today. Although few specific lessons for policy can be drawn from a study of any single program, our results show that providing access to private schools can increase the college-going rates of thousands of low-income students. Growing the evidence base on the programs rolling out across the country will be critical to designing policies that provide educational opportunities to the children who need them the most.
— Matthew Chingos and Daniel Kuehn
Matthew Chingos is Senior Fellow and Director of the Education Policy Program at the Urban Institute, where Daniel Kuehn is a Research Associate.
This first appeared on UrbanWire
Last updated September 28, 2017