Marguerite Roza is interviewed by Christine Schneider of the Walton Family Foundation about how school spending is related to efforts to improve schools and how the study of school finance has changed over time.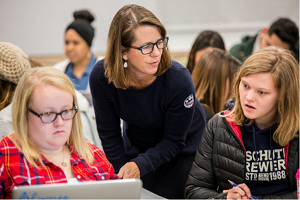 One highlight:
What is the secret sauce for school spending?

Marguerite: Well, my sense is that it is the people inside schools are the secret sauce. Schools are very human, organic, dynamic organizations, where the daily interactions probably do more to drive learning than any particular mix of expenditures. If we accept that, we may also need to accept that those in schools need to be part of deciding how to get the most out of the resources they have. Everything we thought we knew about finance early on — that there was some sort of production function where you stuck in inputs and it would increase the outputs on the other side — only helped so much. In this sense, school teams may need to get out of compliance mode and be empowered to figure out what their students need and how to apply their resources that yield success. 
An article Roza wrote for Education Next, "Breaking Down School Budgets," looks at how school spending varies by subject and course level.
Other articles by Marguerite Roza that EdNext has published include "With New Data, School Finance is Coming Out of the Dark Ages"
— Education Next
Last updated July 6, 2017