In U.S. News, Lauren Camera describes the findings of a new report on teacher pensions recently published by Education Next.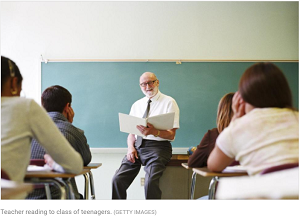 The promise of a pension that provides a monthly financial windfall after retirement and until death has historically been touted as a perk of the teaching profession. Nine out of 10 teachers participate in a pension.
But the authors of the Education Next report found that pensions do little to attract new talent and even less to retain it. In fact, the opposite is true, they argue: States depend on the constant turnover to keep pension costs down, and pension rules are often to blame for pushing out the most veteran teachers as soon as they reach retirement age.

"Most teachers are paying into a system that, most likely, will never fully pay them back," wrote Chad Aldeman and Kelly Robson, co-authors of the report who both work at Bellwether Education Partners.
The full report is "Why Most Teachers Get a Bad Deal on Pensions."
Not long after it was published, AFT President Randi Weingarten responded to the report with a three-page press release. Chad Aldeman responded to that response here.
— Education Next