Illinois legislators are considering a bill that would prevent parents from holding their children back from starting kindergarten.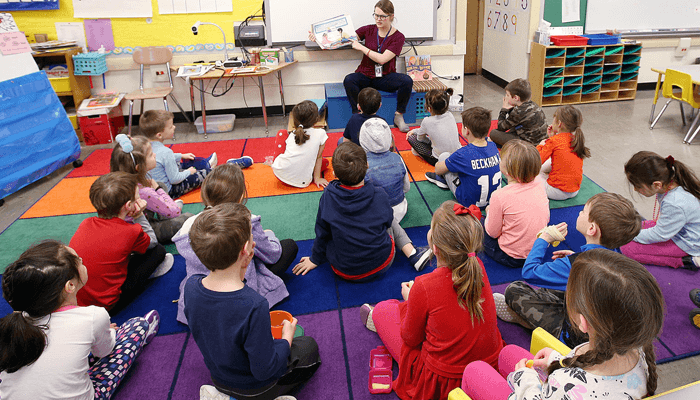 As Nara Schoenberg explains:
Sometimes parents send their kids to kindergarten at the relatively advanced age of 6 because they hope their children will enjoy an athletic or academic advantage over younger classmates. Sometimes the goal simply is to give a child who is lagging developmentally a chance to catch up.
Now this popular practice — sometimes called academic redshirting — is under threat in Illinois, with legislators considering a bill that says children must start kindergarten by age 5 instead of 6.
In "Is Your Child Ready for Kindergarten," Diane Schanzenbach and Stephanie Larsen take a close look at the practice of academic redshirting and consider whether children who are held back from starting kindergarten will gain a long-term advantage over other students.
They write:
In sum, we find that redshirting at the kindergarten level bestows few benefits and exacts some substantial costs. Both research and experience suggest that the gains that accrue from being an older student are likely to be short-lived. Because of the important role of classroom peer effects, redshirted children can be educationally and socially harmed by being with others who are performing and behaving at lower developmental levels. Furthermore, while it is hard to predict a child's likely growth trajectory in the months prior to his expected school entry, the perceived developmental delays and immaturity that prompt parents to choose redshirting in the spring have often resolved themselves by fall.
As any good educator will tell you, parents know their children best. There are multiple factors to weigh when deciding whether a preschooler is ready to thrive in kindergarten. What research tells us about the "average" child or "most" children may not apply to a particular son's or daughter's unique abilities and delays. Families might want to speak with parents of older children about their own kindergarten-enrollment decisions and how they view them in retrospect. And then, parents should follow their own best judgment.
— Education Next