A new study evaluates whether students who are the oldest in their class have an advantage over their younger peers.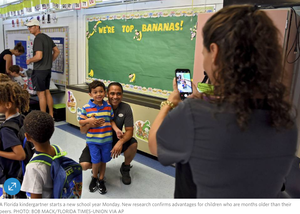 As described by Ben Leubsdorf of the Wall Street Journal
A recent National Bureau of Economic Research working paper by [Chris] Karbownik and three co-authors—University of Toronto economist Elizabeth Dhuey, Northwestern economist David Figlio and University of Florida researcher Jeffrey Roth—analyzed public-school and other records for Florida.

They found September-born children had significantly higher test scores than did August-born children, a gap that couldn't be explained by other variables such as birth weight.
"So, would some August-born children benefit from waiting an extra year to start school?" Leubsdorf wonders.
The article he links to, "Is Your Child Ready for Kindergarten?" in the Summer 2017 issue of EdNext, concludes that holding children back for a year is generally not worth it.
– Education Next