The Supreme Court will hand down its final rulings of the term today, notes The 74. Among the decisions should be the Trinity Lutheran case.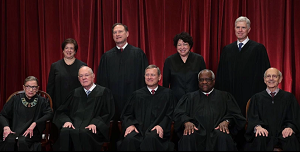 As Martin West has explained in Ed Next
Trinity Lutheran Church v. Pauleyinvolves a Missouri church that was turned down by a state program that provides grants to nonprofits to resurface their playgrounds with rubber from recycled scrap tires. The state justified denying the benefits on language in its constitution stating that "no money shall be taken from the public treasury, directly or indirectly, in aid of any church, sect or denomination of religion."

The question now facing the court is whether such provisions, if used to exclude organizations from aid programs based solely on the organization's religious status, violate the federal Constitution's guarantee of free religious exercise. If so, voucher opponents will find it harder to argue that the religion clauses of state constitutions are a barrier to the creation of school voucher programs.
— Education Next
UPDATE: The opinion has been released and is available here.
Last updated June 26, 2017