The House Appropriations subcommittee will today consider an education budget that makes some cuts to the Education Department, though much smaller than what the Trump administration put forth, and does not include sweeping funding the president wanted for new private school choice programs, writes Carolyn Phenicie in The 74. The bill to be considered includes a cut of about $2 billion made by eliminating Title II grants that support teacher professional development.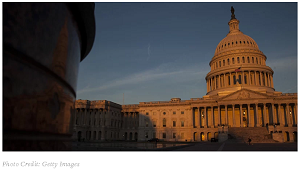 Tom Loveless looks at the research on the effectiveness of teacher professional development in "What Do We Know About Professional Development?"
More recently, Andy Smarick wondered "Is It Really Possible That Professional Development Doesn't Work?" Dan Weisberg responded here.
Weisberg was on Capitol Hill this week pushing back against the proposed cuts to Title II funding, Matt Barnum notes in Chalkbeat.
"We at TNTP are professional development skeptics, but I would say that we are seeing and doing work across the country [indicating] that the trend is positive in terms of work being more disciplined," Weisberg told Chalkbeat.

…

Weisberg — along with a number of education reform groups and the superintendents of the Tulsa and Baltimore school systems — made the case to Congressional staff that it was important to "mend not end" investment in teacher training.
— Education Next