This weekend, 17 percent of graduates who receive their diplomas at Franklin and Marshall College's commencement will be low-income Pell Grant recipients. As Kei-Sygh Thomas notes in The 74, Franklin and Marshall has become a pioneer in college access and equity.
The roughly 2,250-student liberal arts college in Lancaster, Pennsylvania, is poised to push that mission even further with last month's announcement of a $1 million gift from alumnus and former Republican National Committee chair Ken Mehlman. The money is meant to propel the education of students who have faced adversity.

At the same time, the college is a pivotal force behind a larger higher-education collaborative working to enroll an additional 50,000 qualified low-income students at the nation's top 270 college and universities by 2025.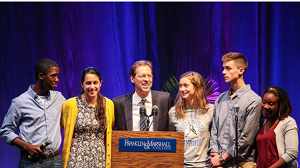 In 2013, Robert Pondiscio wrote for Education Next about Franklin and Marshall's early efforts to reach out to low-income students through partnerships with charter schools.
F&M was the first college to enter into a formal partnership with KIPP aimed at improving college persistence and graduation rates of KIPP alumni. In 2011, the school launched "F&M College Prep" and welcomed 23 KIPP students to the precollege summer-immersion program. The following year, the program tripled in size, adding students from Uncommon Schools, Mastery Charter Schools, Achievement First, and others. The three-week program is intended to give rising seniors from these schools their first taste of college life. Students take two classes a day taught by F&M professors, and attend workshops on college admissions, financial aid, and other topics—all intended to demystify college life.

The students from KIPP and the other schools "leave F&M and go into their senior year thinking, 'I can go to college. It's gonna be tough, but it'll be fine. I know what my resources are. I know how to talk to professors and upperclassmen. I know how to navigate the system,'" says Shawn Jenkins, who runs F&M College Prep as special assistant to the dean of the college for strategic projects.
— Education Next