On Monday, Melania Trump visited a charter school in Tulsa, The Dove School of Discovery, to promote her Be Best initiative. Turkey's state-run broadcaster, TRT World, claimed after the visit that the school is linked to Turkish cleric Fetullah Gulen, an opponent of Turkish president Recep Tayyip Erdoğan.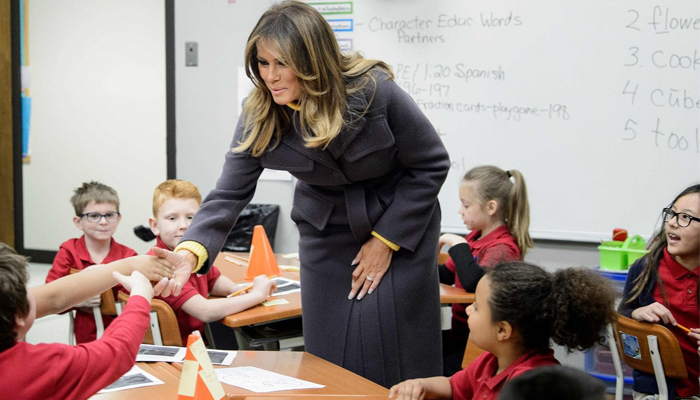 Emily Heil writes in the Washington Post that:
Turkish media and observers of the Turkish-U.S. relationship professed surprise that Melania Trump would visit a school identified with cleric Fethullah Gulen, whose network the Turkish government calls a terrorist organization.
In an article in the Spring 2019 issue of Education Next, "Turkey's Fight Against U.S. Charters: An autocrat declares war on high-performing American schools," Menachem Wecker looks closely at what is known about the roughly 200 public charter schools across the U.S. that are believed to have been founded by followers of Fetullah Gulen. He explains:
How did a Sufi Muslim cleric from Turkey get involved in the U.S. charter movement? Like many aspects of the Gülenist movement, the specifics and origin story are difficult to pin down.
The global Gülenist movement is called "Hizmet," the Turkish word for "service," and professes its goals to be peace, democracy, interfaith dialogue, and universal access to education. The focus on education was inspired by a lack of opportunity for children from poor areas of Turkey, supporters say. At the core of the Hizmet movement is "better opportunities for everybody," said Y. Alp Aslandogan, executive director of a New York–based umbrella organization for Gülen-inspired groups, the Alliance for Shared Values.
As Gülen supporters fanned across the globe, so did schools said to be affiliated with their movement.  The 10 schools that Magnolia operates [in California] are said to be part of a larger network of schools throughout the United States and across the world run by supporters of Gülen. An accounting for the scope of these charters in the U.S. is necessarily sketchy and the subject of some approximating—not least because school leaders typically do not acknowledge any official links between their programs and Gülen.
Wecker also looks into the lobbying effort against Gulen-linked schools undertaken by the government of Turkey, writing:
It's similarly challenging to precisely track the lobbying war over charter schools that has erupted between the Gülenists and Turkish government on U.S. soil, though federal filings required by the Foreign Agents Registration Act (FARA) reveal a money trail. Turkey paid Amsterdam & Partners at least $1.25 million through January 2018: $50,000 per month from December 2015 until June 2017, as well as two additional payments of $150,000 each in November 2017 and January 2018. (At least according to FARA paperwork, Amsterdam hasn't been paid since January 2018.) During the most recent span, from November 2017 to January 2018, Amsterdam & Partners also sent $348,904 in other funds to firms to which it contracted out work. Those payments included: $50,000 to Delve LLC for research; and payments for "provision of government relations and advisory services" to Advanced Advocacy ($101,642), Arnold Public Affairs ($30,000), 5W Public Relations ($32,316), Stroud Communications ($7,446), and the Madison Group ($120,000). The Turkish government has made payments to other firms in 2018, filings show, but they did not immediately appear to be related to charter schools.
For more, please read "Turkey's Fight Against U.S. Charters: An autocrat declares war on high-performing American schools," by Menachem Wecker.
— Education Next