U.S. News released its Best High Schools rankings earlier this week, and charter and magnet schools dominated the very top of the list.
BASIS Scottsdale, a charter school in Arizona, is the No. 1 public high school in the U.S. for the first time. The school took the top spot from the School for the Talented and Gifted, a magnet school in Dallas, which fell to No. 4 this year.
Four other Arizona BASIS charter schools made the top 10, including BASIS Tucson North, which took second place, followed by BASIS Oro Valley at No 3. These public schools are managed by the private BASIS Educational Group LLC. BASIS Scottsdale opened in 2003 and like at other BASIS schools, students can graduate early or stay through 12th grade and complete a senior project – usually off campus, according to the school's website.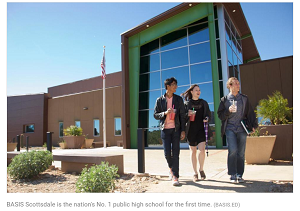 In total, 6 of the top 10 schools on the list are charter schools.
"That's a pretty impressive accomplishment for a sector that is only six percent of all children attending schools," Paul Peterson, professor of government and the director of the Program on Education Policy and Governance at Harvard University, told RealClearLife. "They're a very small share of our total educational system."
June Kronholz wrote about BASIS schools for EdNext in 2014. She explained
BASIS schools are open admission. They operate on a shoestring budget: the Arizona schools operate on about two-thirds of the average funding for a child in a traditional public school. Classes are large: up to 30 students in middle school. Technology is "akin to cuneiform tablets," Scottsdale's head of school, Hadley Ruggles, told me.

The BASIS curriculum and its hard-charging teachers go a long way toward explaining the schools' success. Fifth graders take Latin and can expect 90 minutes a day of homework. Middle schoolers have nine hours a week of biology, chemistry, and physics. Algebra starts in 6th grade; AP calculus is a graduation requirement. The English curriculum separates literature and language, or critical thought; high schoolers take both. There are year-end comprehensives; fail even one and it means repeating the grade.
You can find the complete US News high school rankings here. An explanation for how the rankings are calculated is available here.
— Education Next