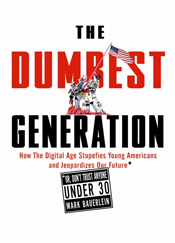 New on the Ed Next website: Mark Bauerlein, professor of English at Emory University and former Director of Research and Analysis at the National Endowment for the Arts (and a frequent reviewer of books and movies for Ed Next), reads an excerpt from his book, The Dumbest Generation.
Here's how the book is described in a review published in The Wall Street Journal ("Can U Read Kant?" by David Robinson):
It would seem that technology and culture both make the present a good time to be young… To Mark Bauerlein, a professor of English at Emory University, the present is a good time to be young only if you don't mind a tendency toward empty-headedness. In "The Dumbest Generation," he argues that cultural and technological forces, far from opening up an exciting new world of learning and thinking, have conspired to create a level of public ignorance so high as to threaten our democracy.

Adults are so busy imagining the ways that technology can improve classroom learning or improve the public debate that they've blinded themselves to the collective dumbing down that is actually taking place. The kids are using their technological advantage to immerse themselves in a trivial, solipsistic, distracting online world at the expense of more enriching activities – like opening a book or writing complete sentences.
---
Other audio book excerpts available on www.educationnext.org:
Rod Paige reads from The Black-White Achievement Gap
Kay Merseth reads from Inside Urban Charter Schools
Richard Whitmire reads from Why Boys Fail