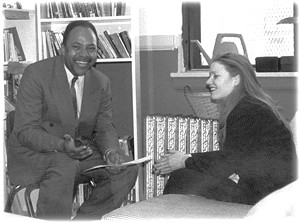 At Bronx Prep, a master teacher shares his expertise. Photograph courtesy of Kristin Kearns Jordan.
---
At the Bronx Preparatory Charter School we enjoy the talents of a master teacher, Frederick Shannon. He had been teaching 5th grade in the classroom next door to our principal, Marina Bernard Damiba, when she began her career through Teach for America ten years ago. As a new teacher, Marina had camped out in his classroom during free periods and absorbed every nuance of his technique. Then he retired. But as Marina moved into leadership positions, first at the KIPP Academy and now at Bronx Prep, she coaxed him out of retirement.
"You need to coach the next generation," she implored.
During his 25 years in teaching, Mr. Shannon developed the "Shannon Plan" of effective instruction. It works. He knows how to teach children and how to coach fellow teachers. He assists our young staff members with their lesson plans and visits their classrooms to offer suggestions for improvement. He demon-strates model lessons in math and reading. Our teachers are becoming more and more effective, thanks to Mr. Shannon's commitment and expertise and to the tailoring of their training to the context of their own classrooms.
To the new teacher who is struggling to get students settled at the beginning of class, he suggests the time-tested "do now," a silent opening exercise in which the teacher writes an assignment on the board before students enter the classroom. Students see the assignment under the "do now" heading and immediately focus on the task at hand.
Other techniques reflect his unique style of making lesson components more visually or physically compelling. With his support, our 6th-grade reading teacher has developed her signature hamburger lesson. Dressed as a hamburger, one of her students models topic and closing sentences that give the paragraph its structure (the bun) as well as the meaty support sentences and details inside. In another lesson, to help students remember that plot = conflict + resolution, teachers take students through a series of Shannon's hand signals that are part boxing, part mime.
Unfortunately, the state of New York does not recognize the holistic, integrated, practical training Mr. Shannon provides as valid preparation for a state teaching license. Currently, schools like ours, in an area of documented teacher shortage, are permitted to hire teachers with one-year emergency licenses. But this allowance will be phased out by 2004. Our teachers will then have to be certified. So each evening they scramble off to schools of education and to on-line learning programs to get the credits they need to stay in the business of teaching.
Credits are expensive. They also take time away from planning lessons, and they usually have little to do with the day-to-day reality of educating kids. Course offerings like the "Environments of School" may be intellectually stimulating, but what new teachers really need is practical, hands-on experience. Some teachers contemplate the aggravation and expense of becoming certified and bolt to private schools. Countless others evaluate the field's barriers to entry and pick another profession.
Good principals, like managers everywhere, know how to evaluate potential teachers. First, recruit well-educated candidates. Then, give them a class of 25 students for 45 minutes and see what the students learn. Call references to assess their ability to work with a team. Get beyond first impressions: meet with them several times before making the offer.
In an environment of choice and accountability, a principal's commitment to students should provide all the motivation necessary to select the best candidates. Teaching does not pay well, but there is nonetheless a pool of talented, motivated people eager to educate the next generation. Why is the state working so hard to narrow that pool?
-Kristin Kearns Jordan is the founder and executive director of the Bronx Preparatory Charter School.
Last updated July 14, 2006