If I mentioned Thomas Friedman and George Will, surely you would know that theyare among the nation's most influential newspaper columnists. But what about Markos Moulitsas and Michelle Malkin? If these names don't ring a bell, you haven't explored the world of web logs, or blogs for short. They are two of the nation's most influential bloggers.
Likewise, if I asked what Diane Ravitch, Jack Jennings, and Kati Haycock have in common, you would say they are all contributors to K–12 education policy debates, oft quoted in the nation's leading newspapers. But what about Will Richardson, Joanne Jacobs, and Eduwonkette? If these names are unfamiliar to you, it's time to visit the education blogosphere. As a relatively new education bloggermyself (at the Thomas B. Fordham Institute's Flypaper blog), let me be your guide.
Blogs burst onto the scene in the late 1990s and gained major momentum in the middle of this decade. By some estimates there are now more than 100 million blogs worldwide. But while reading and writing blogs is extremely popular—two blogging sites (blogger.com and wordpress.com) each receive more web traffic in the United States than the number-one online newspaper (nytimes.com)—no single blog is reaching a mass audience. For example, Daily Kos, one of the most prominent political blogs on the net, pulls in only 0.027 percent of the global web audience in a given period, versus 0.87 percent that read nytimes.com. More than 1,600 web sites in the U.S. get more traffic than Daily Kos; nytimes.com, meanwhile, is ranked number 24. (These data all come from alexa.com.) Blogs represent the "long end of the tail" of the media; a new form of mass communication this is not.
And at the far end of that long tail sits the education blogosphere, a niche within a niche, with as many as 30,000 blogs. Joannejacobs.com, written by a former San Jose Mercury News reporter and columnist, is among its leading lights, yet is ranked lower than about 140,000 other web sites in the U.S. (Compare that to edweek.org, which is ranked about 40,000th.) But Jacobs is a big fish in this small pond. Table 1 shows that her site, along with Richardson's weblogg-ed.com, significantly outplaces all competitors when measured by the number of other blogs linking to them recently. This isn't a perfect indicator of a blog's influence (while daily or monthly readership measures might be better, they are not available for all blogs) but it does show the "authority" given to a site by other bloggers. In this world, links are the coin of the realm, and the more the better.
So what are these education bloggers blogging about? Will Richardson, whose site is the top education blog, informs teachers about how to integrate technology into the classroom. That's a common theme: 6 of the top 10 education blogs focus on technology-related topics. Joannejacobs.com is more ecumenical, linking to and commenting on daily newspaper articles and other blog posts and providing a forum for others to do the same. Some write about instructional practice, typically with a clear progressive bent. The Fischbowl, for instance, describes itself as "a staff development blog for Arapahoe High School [CO] teachers exploring constructivism and 21st century learning skills."
Perhaps the most interesting among the top 10 education blogs is Students 2.0. As its name implies, the site is penned by pupils from around the world who submit entries to the blog's editors. In some ways, its credo is radical, decrying the expectation that students be "widgets for the vast machine of industry." Yet the site is also refreshingly committed to high standards. Consider this statement. "Every post is reviewed for quality: not just anything will be accepted. You will find no improper grammar or truncated ideas here. In fact, you may well learn a thing or two about excellence in writing; we certainly hope you are willing to learn from a generation of student teachers."
If none of these blogs is familiar to you, don't fret. Readers of Education Next are probably more likely to be drawn to education policy sites, none of which reach "top 10" status among education blogs overall (see Table 2). Here the masters of the (blog) universe are all wonks: Eduwonkette, Eduwonk, and The Education Wonks, and two of the three are anonymous wonks, or used to be. The story of Eduwonkette is particularly illuminating; she was recently revealed to be Jennifer Jennings, a graduate student in sociology at Columbia University. Rather than merely toiling away in the vineyards of the American Educational Research Association, writing papers for fellow academics, she recently overtook Eduwonk as the top education policy blogger, even though her competitor is a former Clinton White House aide and cofounder of a major Washington education think tank. It's clichéd to say that the Internet evens the playing field and makes the traditional trappings of power and influence obsolete, but so it is.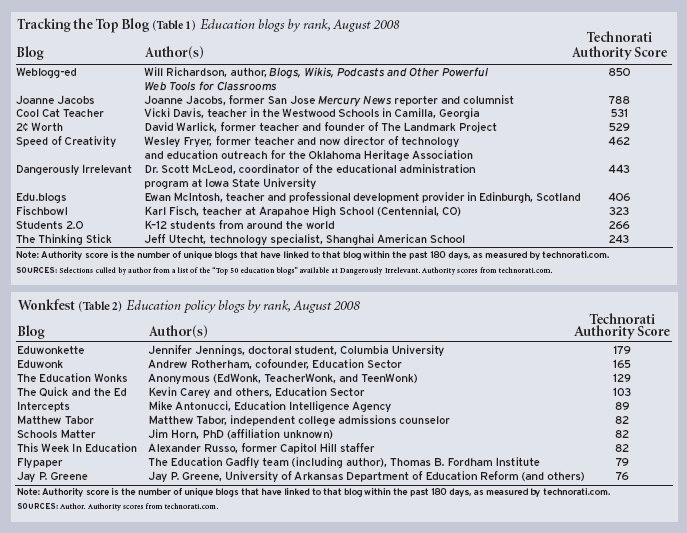 Further to that point, it's also striking that the major education interest groups aren't yet bigtime players in the blogosphere. While the United Federation of Teachers, the American Federation of Teachers, and the National School Boards Association all have active blogs, none makes the top 10 lists.
And while the teacher-oriented blogs seem to skew toward a constructivist worldview, the policy blogs are more balanced between Left and Right. Eduwonk and the Quick and the Ed write from the center-left; Intercepts, Flypaper, and Jay P. Greene come from the center-right. (The latter two were launched this past spring and are steadily moving up in the rankings.) In this way, the blogosphere seems to mimic real life, where most teachers skew progressive intheir educational philosophy, but policy debate is more evenly balanced.
There's one other way that the Net mirrors reality: the lack of a prominent parent blog. This isn't to say that parents aren't blogging; there are plenty of local or issue-specific parent blogs around. But there's no significant parent voice in the national online conversation, just as there's no national parent advocacy group in Washington. That's a real shame; someone should blog about it.
Last updated November 18, 2008