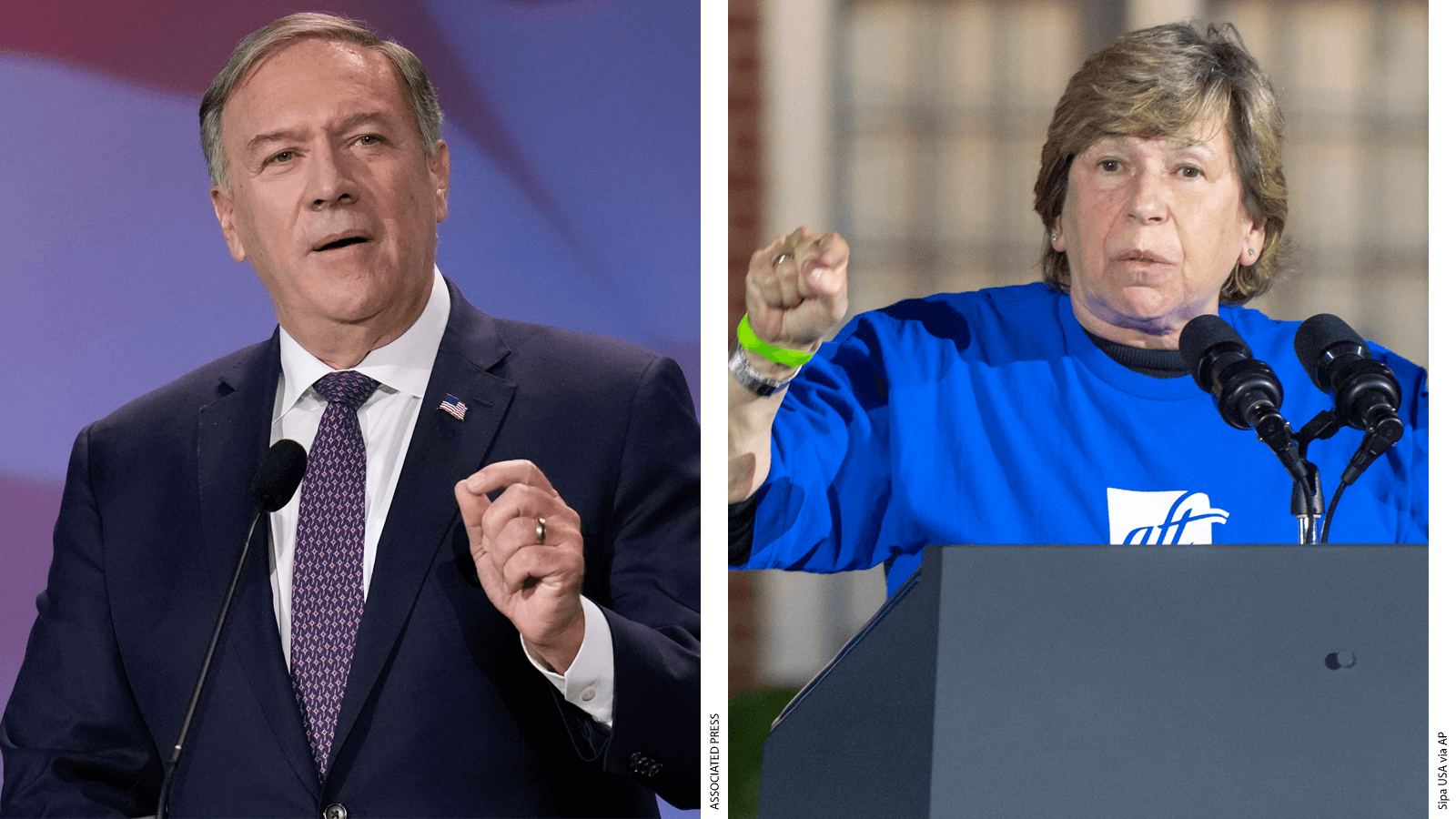 Michael Pompeo, the former congressman from Kansas who served as CIA director and then secretary of State during the Trump administration, said in a recent interview with Semafor that "the most dangerous person in the world is Randi Weingarten," the president of the American Federation of Teachers.
Weingarten responded that Pompeo is going after her because she is Jewish and gay.
"The antisemitic tropes are there. The anti-gay tropes are there," Weingarten told the Guardian.
What to make of the kerfuffle?
Pompeo, a possible presidential candidate, had been asked what he viewed as the central issues for a Republican to campaign on in 2024. He mentioned "making sure we don't teach our kids crap in schools."
Then he said:
I tell the story often — I get asked "Who's the most dangerous person in the world? Is it Chairman Kim, is it Xi Jinping?" The most dangerous person in the world is Randi Weingarten. It's not a close call. If you ask, "Who's the most likely to take this republic down?" It would be the teacher's unions, and the filth that they're teaching our kids, and the fact that they don't know math and reading or writing. These are the things that candidates should speak to in a way that says, "Here's the problem. Here's a proposal for how to solve it. And if given the opportunity, these are the things I will go work on to try and deliver that outcome that fixes that problem."
Responding to a follow-up question, Pompeo expanded on his reasoning, as transcribed by Semafor: "If our kids don't grow up understanding America is an exceptional nation, we're done. If they think it's an oppressor class and an oppressed class, if they think the 1619 Project, and we were founded on a racist idea — if those are the things people entered the seventh grade deeply embedded in their understanding of America, it's difficult to understand how Xi Jinping's claim that America is in decline won't prove true."
On the substance, Pompeo is off base in a lot of important ways. He singles out Weingarten, the president of the American Federation of Teachers, by name without mentioning the president of the larger National Education Association. He doesn't mention that rather than imposing her own views, top-down, on the union, Weingarten is elected to represent union members, some of whom are far to her left, and most of whom may be more invested in pay and pension issues than the substance of the social studies curriculum. Weingarten didn't invent the 1619 Project; Nikole Hannah-Jones did. Of all the factors influencing education outcomes in America, teacher-union political power is only one among many. Plenty of jurisdictions with strong unions also have strong math and reading test scores. And in plenty of other places, decisions about textbooks and curriculum are made largely not by the unions but by Republican state and local elected officials. The governments that collapsed most dramatically in recent memory were Communist ones, such as Poland and the Soviet Union, where workers were forbidden from organizing labor unions that were independent of government control.
Pompeo is correct, though, to identify as problematic a kind of clumsy, oversimplified over-emphasis on American faults at the expense of American goodness. This misconception, conveyed in the schools, is indeed a genuine threat to American confidence, and, potentially, a real political issue. (For recent Education Next coverage that relates to this topic, see "Kissinger Warns on Education Wokeness as National Security Threat," "Teaching About Slavery," "History, Critical and Patriotic," and "Biden History and Civics Priorities Emerge as Battlegrounds.")
Weingarten, for her part, could possibly be on to something when she speculates about the reasons why she's singled out by name. She could add misogyny to the list, though male, apparently heterosexual union leaders such as Gerald McEntee, John Sweeney, Richard Trumka, and Ron Carey have also attracted plenty of public criticism over the years. The threat posed by a powerful teacher union leader from New York is an American cultural theme dating at least to Woody Allen's 1973 movie "Sleeper," in which a character explains the world was wiped out when "a man by the name of Albert Shanker got hold of a nuclear warhead."
Weingarten is violating, though, the advice of Joe Biden, who, in his Yale Class Day speech in 2015, cited Senator Mike Mansfield in advising, "it's always appropriate to question another man's judgment, but never appropriate to question his motives because you simply don't know his motives." Biden explained that when you start questioning people's motives, "it's awful hard to reach consensus." He summed up: "Resist the temptation to ascribe motive, because you really don't know — and it gets in the way of being able to reach a consensus on things that matter to you and to many other people."
I have a small ongoing project where, when I see two people I admire fighting with each other on social media, I privately offer to pay for them to have a nice meal together face-to-face. A Pompeo-Weingarten lunch would be a good chance for a reset. The two of them might discover that they are both less threatening, and have more to contribute to strengthening America, than either one of them thought. My project is premised on the notion that a real threat to America is the kind of polarization that lets our leaders demonize each other as caricatures rather than relating as fellow citizens.
Ira Stoll is managing editor of Education Next.
Last updated November 30, 2022