The Massachusetts Comprehensive Assessment System (MCAS) was long considered one of the best tests in the nation. But last fall, the Massachusetts Board of Education decided to create a new test that would combine elements of the MCAS with elements of the Common Core-aligned PARCC test.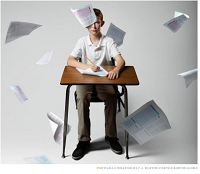 In an article in the Boston Globe magazine, Sarah Butrymowicz looks at how that decision was made and at how the transition is going.
Boston-area educators have heard rumors that the hybrid exam will closely resemble PARCC in the end — but Chester says that largely depends on the feedback the state gets from teachers and principals. "If they tell us that very little of what's been developed on PARCC is helpful and relevant, then we'll use very little," he says. "If they tell us a lot is aligned, we'll use a lot."

As MCAS 2.0 evolves, the state has created 13 committees and work groups to provide insight from teachers and others. One committee is taking another look at how the Common Core is incorporated into Massachusetts standards, to see if that needs any refinement. A test administration team will debate how many test sessions there should be and whether the tests should be timed (as PARCC is) or untimed (as MCAS has been). The Digital Learning Advisory Council, an existing group, will discuss how districts are progressing toward the state goal of total online testing by 2019.
A study published in Education Next last month looks at how the two tests (MCAS and PARCC) compare and at the ability of the tests to predict college success. The study, by Ira Nichols-Barrer, Erin Dillon, Kate Place, and Brian Gill, finds that the tests
do equally well at predicting students' college success, as measured by first-year grades and by the probability that a student needs remediation after entering college. Scores on both tests, in both math and English language arts (ELA), are positively correlated with students' college outcomes, and the differences between the predictive validity of PARCC and MCAS scores are modest. However, we found one important difference between the two exams: PARCC's cutoff scores for college-and career-readiness in math are set at a higher level than the MCAS proficiency cutoff and are better aligned with what it takes to earn "B" grades in college math. That is, while more students fail to meet the PARCC cutoff, those who do meet PARCC's college-readiness standard have better college grades than students who meet the MCAS proficiency standard.
– Education Next