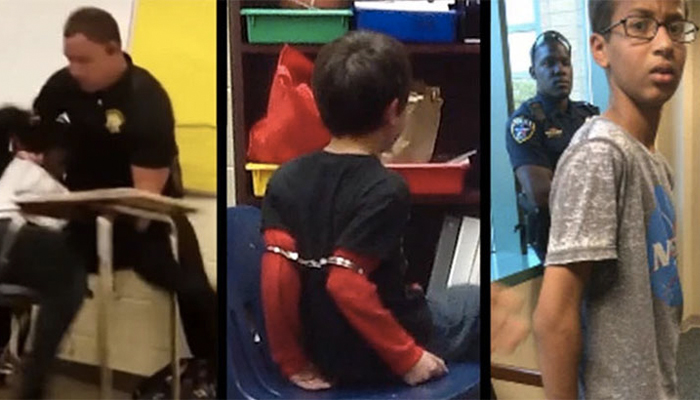 Last week, officials from the U.S. Department of Education met with critics of school discipline policies that were put in place under the Obama administration.
In an article for the 74, Mark Keierleber describes the debate over those policies and considers the likelihood that they might be changed.
A 2014 "Dear Colleague" guidance letter from the Obama administration's Education and Justice departments advised that discipline policies could constitute "unlawful discrimination" under federal civil rights law if they didn't explicitly mention race but had "a disproportionate and unjustified effect on students of a particular race."

That letter — and other efforts to reduce exclusionary discipline, such as suspensions, in favor of reforms like restorative justice — sparked a backlash from critics who accused the department of government overreach and of prompting chaos and disorder that could most harm students of color.

Now, with President Donald Trump and Education Secretary Betsy DeVos at the helm of education policymaking, and with the department tapping two opponents of the Obama-era guidance for key posts, researchers and policy experts on both sides of the debate are bracing for a big reversal that will deal a major blow to civil rights groups.
In an article in the Winter 2017 issue of Education Next, "What Do We Know About School Discipline Reform?" Matthew P. Steinberg and Johanna Lacoe examine the research on alternatives to traditional disciplinary policies.
We describe the critiques of exclusionary discipline and then examine the research base on which discipline policy reform rests. We also describe the alternative approaches that are gaining traction in America's schools and present the evidence on their efficacy. Throughout, we consider what we know (and don't yet know) about the effect of reducing suspensions on a variety of important outcomes, such as school safety, school climate, and student achievement.

In general, we find that the evidence for critiques of exclusionary discipline and in support of alternative strategies is relatively thin. In part, this is because many discipline reforms at the state and local levels have only been implemented in the last few years. While disparities in school discipline by race and disability status have been well documented, the evidence is inconclusive as to whether or not these disparate practices involve racial bias and discrimination. Further, the evidence on alternative strategies is mainly correlational, suggesting that more research is necessary to uncover how alternative approaches to suspensions affect school safety and student outcomes.
— Education Next
Last updated November 22, 2017