Voters go to the polls today in L.A. to choose three school board members. As Howard Blume notes in the Los Angeles Times, the school board has traditionally leaned anti-charter, but supporters of charter schools have a good chance to win a majority of seats on the board.
Sarah Favot analyzes the election for The 74 here.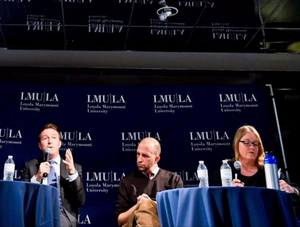 In an article in the Fall 2016 issue of Education Next, Richard Whitmire wrote about tensions over charter schools in L.A.
Throughout the 1990s and well into the new millennium, the massive Los Angeles Unified School District barely noticed the many charter schools that were springing up around the metropolis. But Los Angeles parents certainly took notice, and started enrolling their children. In 2008, five charter-management organizations announced plans to dramatically expand their school portfolios, and now more than 100,000 L.A. students attend independent charters (see Figure 1). Another 40,000 students are enrolled in dependent charters, which are created by the district and considered part of the district's portfolio of schools.

Many people, including some wealthy philanthropists, are eager to accelerate that growth, while the district—and the teachers union—want to rein it in. The conflict between the two camps has polarized not just families and educators but the entire city.
For more, please read "Ed Reform Battle in Los Angeles."
– Education Next
Last updated March 7, 2017