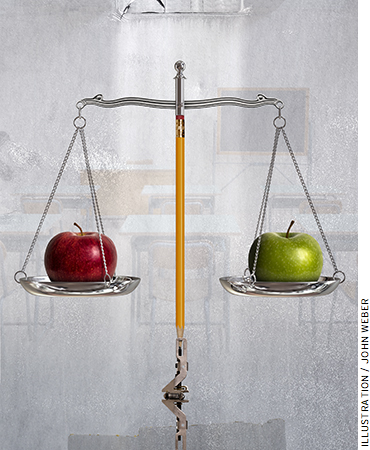 In dozens of U.S. cities, more than one in five students now attend charter schools. Charter school expansion has fueled an increasingly energetic discussion among advocates: How large a share of urban schools should be charters? Is the ideal New Orleans, where nearly all public schools are charter schools? Or does that create demands on charters to become more and more like the district schools they're replacing, potentially undermining the premise of charter schooling? Is it better for a charter sector to coexist with a substantially traditional school district, as is the case in Washington, D.C.?
In this forum, arguing for the two-sector model are Scott Pearson and Skip McKoy. Pearson is executive director and McKoy is the chairman of the District of Columbia Public Charter School Board. Making the case for an all-charter system is Neerav Kingsland, former CEO of New Schools for New Orleans and now a consultant who works to support charter expansion.
• Scott Pearson and John H. "Skip" McKoy: D.C. Students Benefit from Mix of Charter and Traditional Schools
• Neerav Kingsland: The New Orleans Case for All-Charter School Districts
This article appeared in the Summer 2015 issue of Education Next. Suggested citation format:
Pearson, S., McKoy, J.H., and Kingsland, N. (2015). How Many Charter Schools Is Just Right? Education Next, 15(3), 56-62.