TNTP has been following retirement options for charter schools in a cluster of states, and their preliminary findings are fascinating. Rather than relying on the state's pension system, several charter schools are offering teachers portable retirement benefits and/or reallocating funds for salary increases or other forms of compensation.
Sixteen states allow charter schools to choose whether they participate in the state's retirement system. Within a subset of seven states TNTP is following, over half of charter schools chose not to participate in their state's retirement system.
Instead, these charters are finding innovative alternatives to traditional pensions. The schools recognize that current teachers are increasingly mobile and offer teachers portable benefits: 401(k) or 403(b) defined contribution plans. What's more, all of the schools reported minimum service requirements of five years or less—with half of schools offering immediate vesting or within one year of employment. In a separate study conducted by the Thomas B. Fordham Institute, Amanda Olberg and Michael Podgursky looked at alternative retirement plans offered by charter schools in several key states where participation in the state system was optional.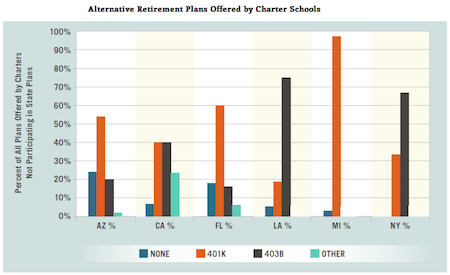 While a number of schools offer no plan, many chose to offer teachers defined contribution plans like a 401(k) or 403(b). In the Fordham study, 43 percent of schools chose to offer teachers a dollar for dollar match on their contributions and 18 percent offered a percent on the dollar. For example, a school might match an employee contributions dollar for dollar up to 4 percent of a teacher's base annual salary, or they might offer a 50 percent match up to 4 percent of the teacher's base annual salary. The most common dollar for dollar employer contribution match rate was 4 to 6 percent, but matches ranged from 2 percent to a graduated 15 percent (for employees who worked 15 or more years at the school).
Opting out of the state retirement system also means that charters have more flexibility for reallocating retirement funds into other forms of compensation. TNTP spoke with one school that raised teacher salaries five percent higher than surrounding districts, giving that school a competitive edge to recruit top talent. Another charter network gave teachers a set amount of flexible money to pay for benefits (such as optional healthcare, vision, dental and required disability and life insurance). Anything not spent on benefits was given back to teachers as a lump-sum check at the end of the year: additional cash teachers could pocket and/or invest however they chose.
Teachers are increasingly mobile and need portable benefits that they can take with them wherever they go. Policymakers should keep an eye out on charters and what they're doing to innovate not just in the classroom, but also in teacher retirement.
—Leslie Kan
This post originally appeared on TeacherPensions.org