Many education reformers once thought that parental choice was the "ultimate local control." When opponents of choice programs defended the district monopoly system by rhetorically asking, "Don't you believe in your locally elected board?" we'd reply, "We want education decisions to be made as close to kids as possible—by families."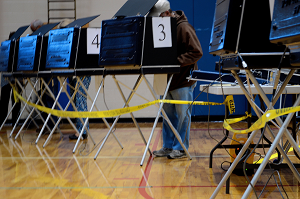 We thought that this was the morally sound answer. But we also thought that it was a political winner. Sure, there'd be opposition from those lobbying on behalf of the districts that stood to lose control. But everyone else would want to empower parents.
Moreover, many of us had read John Chubb and Terry Moe's seminal Politics, Markets, and America's Schools, which argued that democratic control was the cause of many of public education's troubles. Local school boards, many reformers believed, were populated by aspiring politicians with pet issues and petty grievances. They were controlled by powerful interest groups who cared about things other than student learning.
We assumed that school results would be much better, and school politics much reduced, if we dramatically decentralized the system by handing authority to families, educators, and civil society. Teachers could start and lead schools, nonprofits could operate and support schools, and parents could match their kids to the programs that fit them best. We could rid ourselves of all the campaign nastiness and government sclerosis that comes with embedding public education within a political system.
But a curious thing happened along our righteous, electorally watertight path to greater choice: People decided that they liked democracy, too.
So today, in cities with too few options, families clamor for more choice. Charter waitlists overflow, and advocates lobby for new voucher, tax-credit, or ESA programs. At the same time, in cities where charter sectors have blossomed (e.g., New Orleans, Detroit, Newark), communities are demanding more democratic control. How to balance the two has turned out to be one of the most interesting and difficult quandaries in schooling today.
Of course, choice advocates were never opposed to all government activity in public education. The government was obviously needed to ensure that schools were following important laws and that there were standards for what students should know and be able to do. But much of this work could be done by state government or appointed officials.
But authority that is both local and democratic has also been in demand. A community's voters want to have a say over what types of schools exist, what constitutes "good schools," who runs them, how an area's culture and traditions are passed on, and much more. Decisions are more reflective of the public's will when these issues are litigated through the democratic process. Additionally, we can have faith that the discussion is transparent, that people feel agency, and that the results—even if imperfect—will be durable and respected.
The "local" and "democratic" aspects of school authority can be especially important in historically underserved communities. Because of segregation, redlining, and other unjust policies, many of our fellow citizens don't merely suffer unfair conditions; they suffer environments they've been precluded from changing. They want and deserve the right to have a significant influence over the policies affecting them and their neighbors— especially those related to the education of their kids.
And therein lies our fundamental challenge. Today's decentralized systems of choice empower families and enable a wide array of options, but they inhibit the community's ability to shape the contours of the local school system. Yesterday's district-based system was democratically controlled, but the centralization of authority in a single government body prevented dynamism and choice and produced a half-century of heartbreaking results.
So what in the world do we do?
I'm concerned that policy makers will see the choice as binary. We'll either try to forever insulate systems of choice from democratic control, or we'll turn them over to dysfunctional, longstanding, traditional school boards (like NOLA just did). But there is a middle path.
We need to begin experimenting, in earnest, with democratically controlled authorizers. If a city has a large charter sector, state government could create a new authorizer with an elected board (or require existing authorizers to move to elected boards). That democratically controlled authorizer would then have a performance contract with each of the city's public schools, including those operated by the district.
The city would preserve its diversity of schools and operators, as well as the right of parents to choose schools, through such an arrangement. But voters would have a say in how the system worked. Some traditionalists would be unsatisfied because the elected board wouldn't own and operate every single public school. Some choice advocates would be unsatisfied because the democratic process would influence the system.
But this approach recognizes the virtues of decentralization and choice as well as democratic control. It gives the community a voice while making it clear that the board's role is to authorize schools, not operate them.
My book from 2012 started exploring this idea, and Hill and Jochim's excellent A Democratic Constitution for Public Education did the same. Moreover, there are already examples of democratically controlled authorizers (like Indy's mayor), so we wouldn't be breaking new ground.
Fordham just asked reformers to find common ground on contentious issues. This new approach to school accountability offers a way to blend deeply held principles that are currently in tension.
– Andy Smarick
This first appeared on Flypaper.
Last updated June 27, 2016