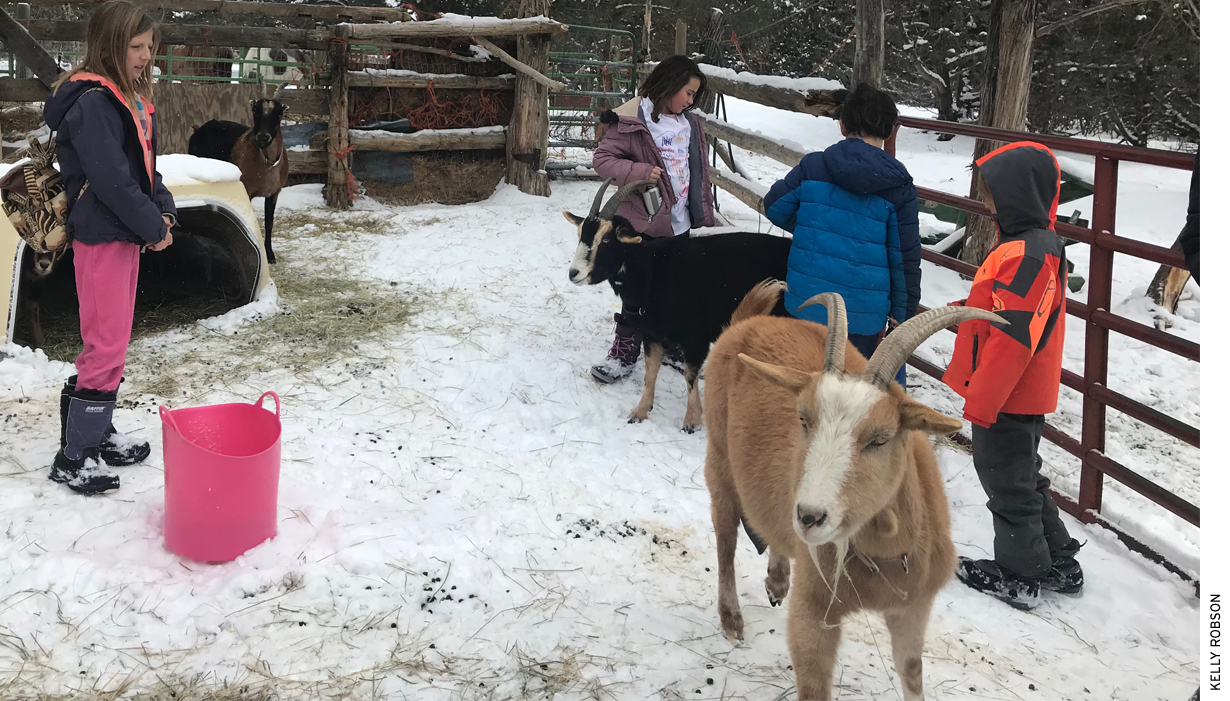 Route 522 in northern New Mexico stretches about 40 miles from the town of Taos up to the Colorado border, offering sweeping views of the surrounding mountains. Along the two-lane road, rundown buildings and tiny towns appear and disappear in a matter of seconds. It's exactly what you'd imagine rural New Mexico to be, save for one anomaly: hidden among the pine trees about a half-mile off route 522 sits Roots and Wings Community School, one of a growing number of charter schools operating in rural communities across the country.
As of the 2017-18 school year, 809 rural charter schools nationwide served approximately 256,000 students. Though that's only about one-tenth of all charter schools and students nationwide, it represents substantial growth over the last decade. Between 2007 and 2017, the number of charter schools operating in rural communities increased 22 percent and the number of students attending rural charters increased 64 percent.
Despite this growth, however, the prospect of a charter school in a rural community is often met with skepticism or outright hostility. And this is not unfounded; charter schools face some real challenges in rural areas. Many rural communities simply have too few K-12 students to sustain an additional school. Moreover, charter schools can and do affect the enrollment of local school districts and their budgets. Many rural school districts are already struggling with tight budgets and low enrollments. Losing just a few dozen students to a charter school can force a district to close or consolidate schools—a decision that can harm the long-term social and economic viability of a community. These are real concerns, making chartering a non-starter in some places. But they don't necessarily reflect the context in all rural communities, and there are some places where charters can be a good response to rural education needs.
My Bellwether colleagues and I recently studied successful rural charter schools in order to provide funders, authorizers, and prospective school leaders with a better understanding of when and why they succeed.
For our new website, ruralcharterschools.org, my co-authors and I identified four rural charter schools that outperform their local district and statewide averages in reading and math: Roots and Wings Community School in Questa, New Mexico; Crossroad Academy Charter School in Quincy, Florida; Glacial Hills Elementary School in Starbuck, Minnesota; and Prescott Valley Charter School in Prescott Valley, Arizona. (You can read more about the methodology for identifying these schools here.) Each case study represents in-depth site visits and interviews with dozens of individuals, including school leaders, parents, teachers, and community members.
Despite substantial diversity in the schools' models and contexts in which they operate, there are three common factors that seem to facilitate their success:
The founders, leaders, and/or board members of these schools have deep ties to the local community.
There's a widespread perception that charter schools bring in "outsiders" to "fix" a community's problems. The backlash against white education reformers pouring into New Orleans in the wake of Hurricane Katrina is possibly the most salient example. A similar skepticism of outsiders exists in the rural communities in this study.
But these rural charter schools were founded by local parents, long-time residents, or, in one case, a local leader already doing work with the community's young people. Three of these schools are a result of the efforts of entire families, further reflecting the founders' and leaders' deep ties to the community and commitment to the school. Roots and Wings was founded by a husband-and-wife team; another husband-and-wife team currently leads Prescott Valley School; and the son of Crossroad's founder took over when she transitioned to being a member of the school's board. Community members spoke consistently about the importance of school founders being trusted members of the community. They were adamant that the schools would never have opened had they not been launched by locals.
Prescott Valley Charter School deviates from this pattern. Though it is currently run by a husband-and-wife team who live in the community, its founders lived about 90 miles outside of Prescott Valley when they launched the school. And yet, it was able to gain footing in the community anyway. Prescott Valley is by far the largest rural community in our sample and, unlike the other three communities, has experienced substantial population growth over the last several decades. The county also has two dozen charter schools. It's possible that these factors made the town more open to outsiders and more accepting (or at least tolerant) of charter schools.
These rural charter schools were founded as an explicit remedy to a gap in the community's education offerings.
Rural charter schools tend to bump up against the local school district, which is often the main, or even only, local institution around which the community gathers. As a result, families need a clear and compelling reason to seek out other options.
The gaps that charter schools can fill vary based on community need. For example, in 2005, the local school district closed the elementary school in Starbuck, Minn., for financial reasons; students had to be bused upwards of 30 minutes to the next closest school. Wanting to maintain a local school, a group of Starbuck parents and residents decided to use the state's charter law to open Glacial Hills Elementary.
In Gadsden County, Fla., families had been leaving the declining school system for years in search of better options in private schools or neighboring counties. Crossroad Academy Charter School opened in 1998 and was able to establish itself as a high-quality, public, local option.
The town of Questa is nestled in the mountains of northern New Mexico, allowing residents to take advantage of year-round outdoor activities. Yet there were no school options that helped students embrace their natural surroundings. Roots and Wings Community School fills that gap by focusing on expeditionary learning, a hands-on approach that includes semester-long thematic units and extensive outdoor activities, such as multi-day camping trips.
These rural charter schools maintain consistent leadership and/or engagement with school founders.
Nationwide, the average tenure of school principals is just four years. The leaders of the four charter schools in this study have been at the helm for a decade or more. Crossroad's current leader has been the principal for more than a decade and is the son of the school's founder and first leader, who maintains involvement as a board member. Roots and Wings' founders continue to be involved nearly 20 years after they launched the school. One works as the special education coordinator and physical education teacher, and the other has launched a local nonprofit organization, which provides the school with funding and a regular stream of volunteers.
Prescott Valley's school director just began her tenth year, and her husband has been the school principal since 2011. And at Glacial Hills Elementary, the school director has been there for 11 years, three of the school's founding teachers remain in the classroom, and a member of the founding team serves as the receptionist.
Of course, rural charter schools need many of the same things as schools in other geographies — strong leaders and teachers, solid financials, good governance, high-quality academics, etc. — but their rural location means these three factors may be additionally important. While having these elements in place won't guarantee a rural charter school's quality or viability, they can help rural charter schools establish themselves in their communities and set the stage for long-term success.
And when charter schools are successful in rural communities, they have the potential to offer high-quality education options to students whose geographic location may otherwise isolate them from opportunity.
Kelly Robson is an associate partner with Bellwether Education Partners.