"Would Dr. Martin Luther King, Jr., have been a fan of charter schools? Emphatically yes, says his closest aide and fellow civil rights legend, Dr. Wyatt Tee Walker." So notes an article for RealClearLife.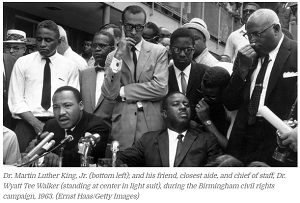 As the piece notes, Walker was executive director of the Southern Christian Leadership Conference and Dr. King's chief of staff during the critical Civil Rights Movement years of 1960 to 1964. In 1967, Walker moved to Harlem to become Senior Minister at the Canaan Baptist Church of Christ. In 1999, during his tenure at the church, Dr. Walker became a key founder of the first-ever charter school in New York State. This school is now named the Sisulu-Walker Charter School of Harlem in honor of Dr. Walker and of Walter Sisulu, a close ally of Nelson Mandela. An award-winning book, A Light Shines in Harlem, has been written about Walker's work with his co-founders to start the Sisulu-Walker school.
In June 2016, Dr. Walker was awarded the Charter Schools Lifetime Achievement Award by the National Alliance for Public Charter Schools, the article explains. In a video interview with Dr. Walker given prior to his acceptance of the award, he described charter schools as a key human rights initiative. When asked whether Dr. King would have also supported charter schools, Dr. Walker replied: "Oh, yes, without a doubt." The full video interview with Dr. Walker can be viewed here.
Please read the full article (which appears here in condensed form), "Would Martin Luther King Have Supported Charter Schools?" which appeared on RealClearLife on September 13, 2016.
– Education Next