I know, I know, I couldn't help myself, but when you release a huge study on the same day as the "storm of the century," you gotta work with what you've got!
Today the Thomas B. Fordham Institute released a path-breaking study, How Strong are U.S. Teacher Unions? A State by State Comparison. (The short answer? Pretty damn powerful, though, like Hurricane Sandy as she makes landfall, weakening precipitously.)
The report uses thirty-seven separate indicators and a massive survey of education "insiders" to determine the relative strength of the teacher unions from coast to coast. Rather than just look at the percentage of teachers who belong to a union—the proxy most analysts have used for union strength for pretty much forever—we also examined measures like the dollars spent on campaign advertising, the degree to which unions have won major policy battles in recent years, and the lock the unions have on a given state capital.
As the map below indicates, the results aren't radically different from what you'd expect. The strongest unions are found on the West Coast, in the Northeast, and in the industrial Midwest; the South is mostly the province of relatively weak unions. But there are surprises. Hawaii, currently perched on the edge of a teacher strike, might be unknown to many as union-central. Likewise, Montana and Alabama punch well above their reputational weights.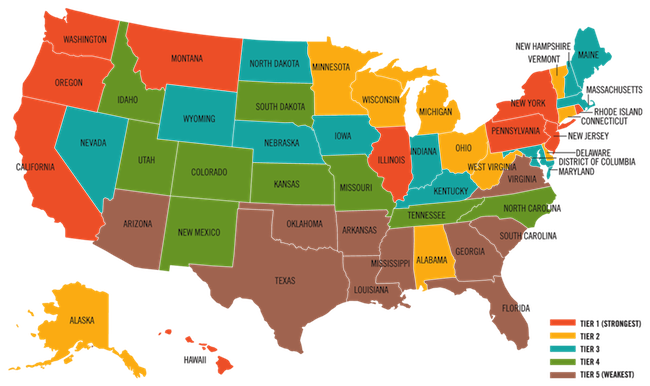 But the biggest surprises, to my eyes, are Delaware, Massachusetts, and Maryland. These three states, which, along with Florida, have significantly outpaced the rest of the country in student achievement gains since the early 1990s, are often viewed as bastions of union influence. To be sure, they all have lots of unionized teachers. But when union strength is considered more holistically, these states show up toward the middle of the pack.
This is significant, for reform opponents—and union defenders—LOVE to point to these states (and Massachusetts especially) as proof that unions can't possibly be to blame for lackluster student achievement. (Yes, I'm thinking of Diane Ravitch.) If anything, unionization helps raise achievement, they claim.
But according to our metric, these state unions are not as powerful as some have presumed, at least relative to other state unions. They ranked nineteenth (Delaware), twenty-first (Massachusetts), and twenty-third (Maryland) in the nation, respectively, for union strength. Plus lots of other factors—a history of local control, admiration for the status quo, political leadership, and so on were also found to impact state policies. To the extent that such policies impact student achievement, the causal chain between the unions' political power and student achievement (up or down) is circuitous indeed. Still, suffice it to say that no one can say with a straight face: "Want to boost student outcomes? Empower the teachers unions!"
This study was a massive undertaking, three years in the making. There's a ton to dig into—perfect for a stormy day. So while you've still got Internet service, download the report and get started!
-Michael Petrilli
This blog entry first appeared on the Fordham Institute's Flypaper blog.