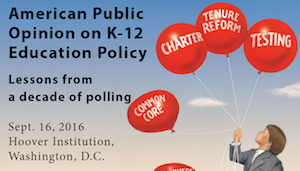 On Friday, September 16, Education Next hosted an event to discuss the results of its 10th annual survey of public opinion on K-12 education. Among the participants were Paul E. Peterson, Michael Barone, Martin West, Mike Petrilli, Matthew Chingos,  Celine Coggins, Mary Cathryn Ricker, Amber Northern, Nina Rees, Shavar Jeffries, and Neal McCluskey.
More information about the event can be found here.
This year's survey results are presented in a report that includes analysis of ten-year trends in public opinion on the most important issues in education reform.
—Education Next.