Rick Hess posted on his Straight Up blog, "My Mixed Feelings on XQ's "Super Schools."  He reported ambivalence after the XQ Institute announced ten winners of XQ: The Super School Project design challenge.  For those new to XQ, it is an initiative to reimagine American high schools. The aim is to create educational experiences that ensure that students graduate with the 21st Century knowledge and skills to successfully engage in further education and careers.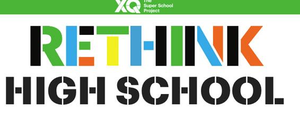 Consistent with XQ's commitment to transparency as a primary value, CREDO at Stanford University helped in the creation and the execution of the design challenge.  My involvement allows me to respond to Hess's blog with deep knowledge of the intention and attention of the XQ team.
On the positive side, it is no surprise that Hess endorsed the attempt to redesign American high schools.  The facts don't hide the glaring disparities in school quality across the country nor the sickening gaps in both achievement and preparedness across race and income lines.  Hess also praised the XQ belief that going directly to local groups of educators, students and community members would lead to proposals that were grounded in local voices, local conditions and local support for new approaches.  The fact that nearly 700 teams submitted design proposals validates that belief.
On the mixed feelings side, Hess considers some of the messaging "goofy" and prone to "fanboy enthusiasm".   The "Super School" motif is an homage to Geoffrey Canada's "Waiting for Superman" monologue describing the day he realized Superman wasn't real and that only real people could solve the problems he saw in his community.  (Not surprisingly, Canada is one of XQ's Board members.) 
The messaging is effective, whatever Hess might think.  Over 45,000 individuals have joined the XQ community.  More than sixteen million posts, tweets and media impressions have carried the idea across the country. One of the details missed by Hess is that XQ: The Super School Project has also earned a substantial movement of popular support which is unique in the array of education reform efforts; popular will is now an active verb in public education transformation. After decades of hearing education reformers bemoan the absence of authentic interest in improving education, it is surprising to now hear that the Emperor's clothes are too flamboyant!
Hess's more serious worry is that history has not been kind to large scale education redesign challenges.  Others have done the serious post-mortems of those efforts, so I will not repeat them.  Instead, Hess should be reassured that as we created the design challenge, we considered the past record and drew from the collective experience.  As a result, the XQ design challenge differs in important ways.
First, there is an unrelenting focus on putting student learning at the center of every school.  While XQ maintains that every school must be able to produce XQ Learners: students endowed with knowledge, skills, and capacities to engage in the world after high school, it stops far short of proscribing any model or approach.  We consider mastery based teaching and learning to be essential, and that to do it properly requires a fundamental reorganization of people, practice and resources.
Second, we have tried a novel approach to the design work of the teams around the country.  Other challenges have shared principles and guidelines; Hess is probably right that traditional applicants used costumes and props to appeal to the reviewers.  Here though, we drew back from endorsing practices or philosophies.  Instead, we defined clear outcomes for schools and supported teams with substantive resources – Knowledge Modules – to give all teams, regardless of prior engagement in education, the fundamental building blocks of design to inform and guide their work.  The feedback was uniformly enthusiastic but more important, the caliber of the proposals showed the material we provided had a positive impact on the thinking of the teams.  Those resources are available to everyone at https://xqsuperschool.org/challenge#discover.
The ten winning teams represent a diverse set of proposed innovations, and an even more diverse set of communities ready to adopt change.  They represent the inaugural Super School cohort.  They are ambassadors to communities from across the nation with equal pent-up demand for better learning outcomes for their children. Their success, when it comes, will inspire communities around the country to rise up and become their own heroes.
Third, this time is not like the time before.  We know now how essential good teachers are.  We know more about how adolescents learn.  We know how important knowledge and skills are to life outcomes and community wellbeing.  We know we live in an interconnected world.  We know we have to change.  And the "we" is a far more inclusive "we" than ever before.
Hess is correct in one important respect.  All the XQ Super School winners are at the start of a major undertaking.  It will take focus, dedication and tenacity to translate their visions into the vibrant schools they proposed.  As with all proposals, implementation of these designs will have to go beyond the known-knowns and move through the known-unknowns and the unknown-unknowns.  Hess wants to reserve judgment about the results until later, as do we all.  In the meantime, there is good reason to celebrate the fact that so many communities have stepped up to join the challenge and will dedicate their energy, talent and wisdom to the effort.
– Macke Raymond
Macke Raymond is director of CREDO at Stanford University.