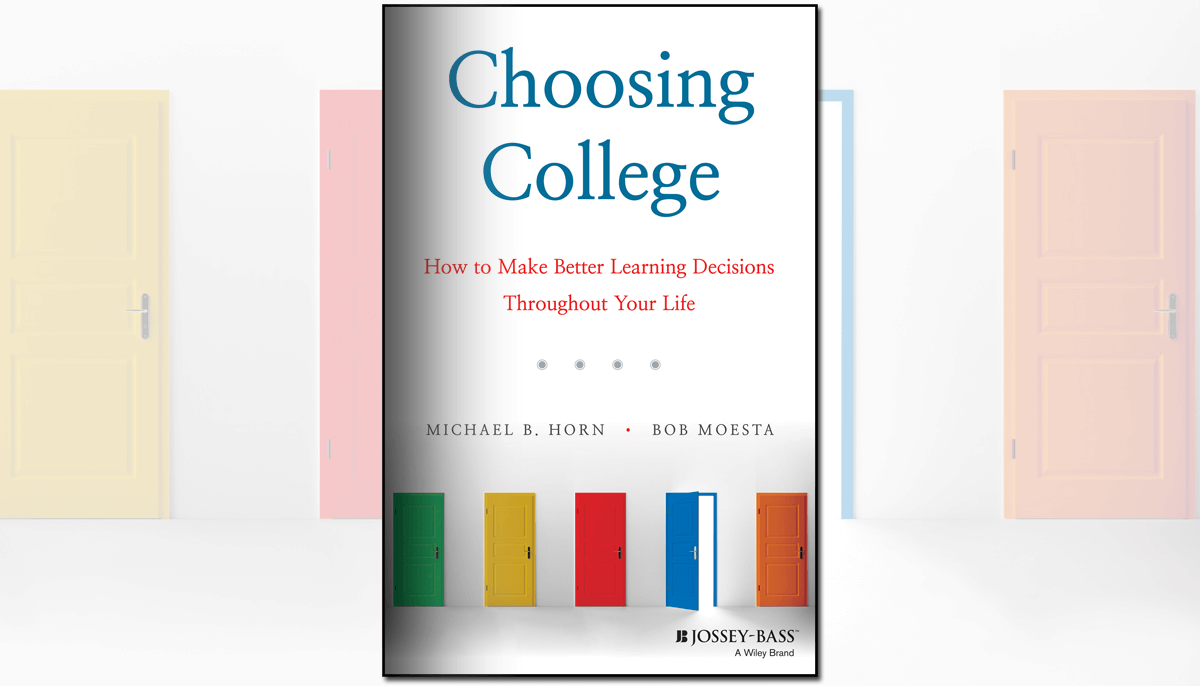 Deciding what—if any—education to pursue after high school is more complicated than ever. And it's not just high school graduates who worry about further education. Many adults are "upskilling," and looking for the right educational environment to do that.
These decisions have lasting consequences. For example, the average 2017 college loan borrower will have more than $38,000 in debt after graduation, with the average bachelor's degree holder taking 21 years to repay federal student loans.
Why seek further education, whether in a 4-year university, 2-year community college, vocational or other training program? How can these learners make better decisions about what's right for them?
Michael Horn and Bob Moesta, both fellows at the Clayton Christensen Institute, tackle these issues in their new book Choosing College: How to Make Better Learning Decisions Throughout Your Life. They interviewed more than 200 individuals and surveyed more than 1,000 students, collecting detailed stories on their motivations for pursuing post-secondary education.
They've categorized these findings using the "jobs to be done theory"—an approach that explains why individuals hire a product or service to get a job done in their lives. Their analysis suggests five potential "jobs" students hire post-secondary education providers to do for them.
Job 1: Help me get into the best school. This job is about getting into a school, not the schooling experience or what happens after graduation. During high school, families often make significant financial investments in student support services like tutoring, college counselors, and testing coaches. These individuals are usually traditional college students attending school full time for the customary college experience.
Job 2: Help me do what's expected. This job is about going to school to satisfy someone, like parents or a spouse. These individuals go through the motions, attending school for an extrinsic reason. While students experiencing this job are often apathetic about their education choice, a degree is a security blanket that ultimately could be useful to them.
Job 3: Help me get away. This job is about breaking the daily grind, escaping a current situation like a job, a role, or a place. These individuals are likely to attend an institution where there is a person they know well. The educational institution is an escape valve from present pressures. The program in which a person is enrolled isn't that important.
Job 4: Help me step it up. This job is about going beyond what individuals are doing now—the rut a person might be in—with a focus on and knowledge of what's next in life. These individuals are solving a challenge that will make their life better. In this situation, individuals are likely to know what credential or certificate they need to advance themselves.
Job 5: Help me extend myself. This job is about learning for learning's sake. Individuals are motivated intrinsically to acquire new knowledge and skills. They are likely in a rewarding situation, not running from that condition. But now they have time and resources to pursue more education and accomplish something meaningful.
In these jobs, there are two forces at work, generally compelling individuals to change: the "push" of a problem causing dissatisfaction and the "pull" of a new solution.
This "job choosing" push/pull raises questions that are practical, emotional, personal, and social. For example: Will I get a raise with a degree or new credential? Am I better off staying with what I'm doing rather than doing something different? My friends are going to college, should I? How can I challenge myself to learn more?
In today's world, individuals can experience several of these jobs during their lifetime—perhaps all of them multiple times.
In addition to traditional 2- or 4-year institutions, other educational options that respond to these "jobs to be done" include apprenticeships and internships; career and technical education; job placement and in-house training; and boot camps for acquiring discrete knowledge or skills. There are also new approaches to paying for programs, like income share agreement that allow students to pay for education based on income.
These exemplify what Ryan Craig calls "faster and cheaper ways" to acquire knowledge and skills for today's workforce.
Understanding what motivates individuals and helping them be clear about their reasons for seeking more education—the job to be done—can help them make better choices and avoid unintended consequences.
Bruno V. Manno is a Senior Advisor for the K-12 Program at the Walton Family Foundation.
Last updated October 10, 2019