Histories of American education have been big news lately. Diane Ravitch's Death and Life of the Great American School System has been topping the charts at Amazon.com. Ed Next's Paul Peterson has a new book out of his own (Saving Schools: From Horace Mann to Virtual Learning).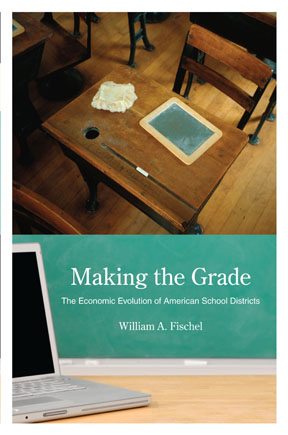 In the new issue of Ed Next, Jay Greene reviews another history, Making the Grade: The Evolution of American School Districts, by William Fischel.
Fischel argues that the conventional "top-down" history of American education is incomplete, and offers his own "bottom-up" history that, with a few parsimonious concepts, explains quite a lot about the development of the American school system, Jay Greene writes.
Two such concepts carry most of the burden. School systems have been structured to enhance homeowner property values while facilitating the build-up of place-based social capital. The first goal, enhancing property values, explains the evolution of the school system. The second, building place-based social capital, explains the system's abiding resistance to reformers trying to change it.
"Fischel's account is much more persuasive on the former than the latter," Greene writes.
The full review, "Look in the Mirror: We have the schools we wanted, and now we can't change them," is now available online.