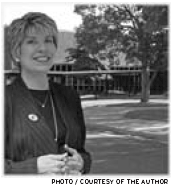 I walked into my first education job midyear as an English teacher of 9th graders who had driven my predecessor and two substitutes onto other career paths. The students were ready for me, but I was not prepared for them.
By the end of the year, I had learned to teach. Successful colleagues translated passionless collegiate philosophy into the vigorous reality of educating adolescents in the late 1960s. My department chair said, "Read Up the Down Staircase immediately!" Bel Kaufman's 1964 depiction of English teaching and kids was, she said, "right on."
I learned more from that book and from discussions with fellow English teachers than I had in four years of traditional teacher preparation and my brief bout of student teaching.
Over the past 40 years, I have served as department chair, assistant principal, high school principal, and now university-based supervisor of teachers in training and professional development schools (PDS) coordinator. The one-year, fast-track program through which I train teachers (Towson University's Master of Arts in Teaching [MAT]) and similar programs aim to replace the much-maligned teacher training programs of the 20th century. MAT pre-service teachers, or interns, work in a real classroom with a mentor who is an experienced master teacher. My two off-campus seminars add practical knowledge needed for classroom survival and success.
I supervise interns in four secondary schools in Howard County, Maryland. MAT interns tend to enter teaching from a love of content and are eager to prove they are knowledgeable; they tend to forget that students don't care about either. Peeking at their cell phones, students check their MEdia Net favorites or IMs if the teacher is not vigilant. One of my assignments requires interns to examine, reflect on, and discuss what they discover in the hallways and cafeterias of their schools. One intern realized that a cafeteria scuffle had an impact on instruction after lunch. After witnessing the altercation, the excited students were not at all interested in reading about the escapades of American robber barons. The intern said, "I watched my mentor redirect the students after giving them a short time to talk about how they felt. It made me understand how we will get nowhere in the curriculum without caring about their feelings and building relationships with our students."
As interns co-plan, co-teach, and advance into a program of teaching five days each week, they experience the life of a teacher but with safety nets in place. The mentor provides continuing discussion about what works with student assessment or classroom management and how to navigate positively in a school's culture. (Eager to share their observations, students are important contributors to the learning curve. As one student said, "I could learn a lot better if the new teacher would just shut up.") A Bel Kaufman passage I share with my interns says much about the adolescent mind and valuable, timeless feedback from mentors:
Your lesson plan is excellent—except for the Emily Dickinson line: "There is no frigate like a book." The sentiment is lovely, the quotation apt—only trouble is the word "frigate." Just try to say it in class—and your lesson is over.
Although MAT interns are university trained to write lesson plans, it is with fictional students and often by professors who have not been in a secondary classroom for a decade or more. Without appropriate mentoring, I have seen social studies interns cheerfully click through countless PowerPoint slides without creating a context for students. Watching 20 slides about the life of Asian immigrants in 19th-century California with unexplained vocabulary is not a learning experience. With mentors, interns learn how to plan and pace lessons for real adolescents. Interns learn that it's better to analyze one Shakespearean sonnet effectively than to expose students to ten while blathering about the joys of iambic pentameter.
Pre-service and new teachers need to experience a continuing loop of lesson planning, implementation, one-on-one coaching, feedback, reflection, and lesson revision with mentors who have proven track records of student achievement. With a passion for teaching and practical approaches to classroom success, mentors can build in one year a group of educators who will stand the test of time.
Dorothy Hardin is a freelance writer and consultant.