On Saturday, the New England Patriots put together a mediocre performance but still solidly beat the Houston Texans, 34-16. After the game, players offered their reactions.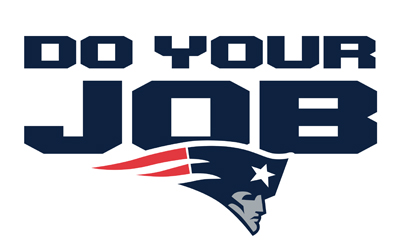 In the winning locker room, Patriots running back Dion Lewis—after becoming the first player in NFL history to score a receiving touchdown, rushing touchdown, and kick return touchdown in a playoff game—assessed his performance. "I feel like this is my worst game ever," he said, focusing on his two fumbles. "I'm just disappointed I put my team in jeopardy, so I've got a lot of work to do." Looking to the week ahead, Lewis said, "It's fixable, I know that, and I'm going to do whatever I can because if I don't, I ain't going to play; so I'll get it fixed."
Tom Brady, the Patriots iconic quarterback, threw for 287 yards, two touchdowns, and two interceptions in the win. Of his performance, he said flatly, "That [stinks]." Brady continued, "You know, it just doesn't feel great because we work pretty hard to play a lot better than we played. I give them a lot of credit, but we're going to have to play better on offense. I expect us to go out and have a good week, and fix the things that we saw tonight. And try to play better next week."
Then there was the losing locker room, where star Texans defensive end Jadeveon Clowney offered his view of events. "We had them right where we wanted them," he said. "On third downs, they was getting third-and-longs, he's throwing the ball up, getting deep catches, man, just getting lucky . . . Take them plays away, kick return away, we beat them. I think we did good. Hit him when we wanted to, we were messing him up, disguising, moving around. When you're playing that good, you expect to win games. We just didn't get the outcome we wanted."
So, while players on the winning team were calling themselves out for their shortcomings, the star of a team that lost by more than two touchdowns was explaining that his team did all the things that make him "expect to win."
The quotes suggest two very different ways of thinking about what it means to play well. The Patriots have internalized a vision that regards excellence as a process—even after more than doubling their opponent's score, New England's players talk intently about all the places they can improve. Meanwhile, after the Texans lost by a hefty margin against a team that was off its game, their defensive superstar insisted that his team was just a couple plays from winning.
Put in perspective, that difference probably had something to do with why the Patriots went 14-2 this year and the Texans 9-7. It probably had something to do with why the Patriots beat the Texans twice this year, by a combined score of 61-16. And it may have something to do with why the talent-rich Texans are 29-35 the past four years and the Patriots are 50-14.
What does any of this have to do with school reform? Quite a lot, actually. But let's keep it simple.
First, every time you hear enthusiasts of new teacher evaluation systems, school improvement grants, or the Common Core insist "we know our ideas are right, we're just having some implementation bumps," think of the Texans. Think of Clowney bragging about how his squad played before lamenting "we just didn't get the outcome we wanted." The truth is that school reform tends to be much heavier on talk than on execution, especially when it comes to policy change—and especially in recent years.
Second, recognize that when it comes to performance in complex, labor-intensive, people-driven pursuits—like football or schooling—execution is everything. What matters is a fierce, disciplined commitment to getting better. Now, it's easy to fake that—everyone has the jargon of "continuous improvement" down pat. But what matters is when a relentless focus on execution is reflexively embodied in every action, every meeting, every conversation, and every practice.
Over nearly two decades, the Patriots have won about three-quarters of their games in a league filled with fierce competitors. They've done this with a constantly shifting cast of players and coaches. The books that have taken the closest look at Bill Belichick and his methods, by authors like David Halberstam and Michael Holley, make clear that there's no secret sauce. But the recipe is straightforward. Players are expected to relentlessly focus on doing their job. They are taught that execution is what makes the difference. There's a belief that excellence means focusing on what went wrong and how to do better—that mediocrity is served by could've, should've, would'ves. And there's an expectation that players will be able and willing to deliver, or else move on.
Ultimately, it's not about dismissing or rejecting excuses, but about creating a culture where people don't want to make excuses. Seems to me that we could use a lot more of that nowadays in school reform, in schooling, and in life.
—Frederick Hess
Frederick Hess is director of education policy studies at AEI and an executive editor at Education Next.
This post originally appeared on Rick Hess Straight Up.