The Fall 2015 issue of Education Next is here! The cover features three articles assessing school reform in New Orleans on the tenth anniversary of Hurricane Katrina. Researchers with the Education Research Alliance for New Orleans (ERA-New Orleans) at Tulane University, directed by professor of economics, Douglas Harris, show the impact of the reforms on student performance; consider to what degree the city's system of school choice provides a variety of distinct options for families; and take a careful look at the city's unique centralized enrollment system.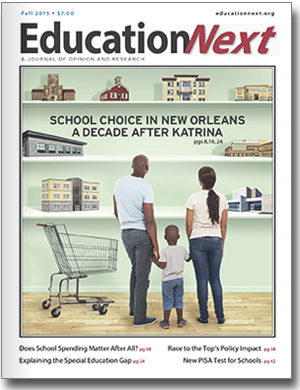 A study by William Howell analyzes the impact of Race to the Top and finds that in its aftermath, states adopted at unprecedented rates the education policies that were explicitly rewarded under the competition. Joanne Weiss, former chief of staff to U.S. Secretary of Education Arne Duncan, debates Frederick Hess of the American Enterprise Institute about the success of Race to the Top in an accompanying forum.
Does school spending matter after all? New research from Kirabo Jackson, Rucker Johnson, and Claudia Persico provides compelling evidence that money does matter, and that additional school resources can meaningfully improve long-run outcomes for students.
Also in this issue, Marcus Winters debunks a common myth about the "special education gap," and Alan Borsuk profiles a Wisconsin high school that reached high international benchmarks in math and reading on the OECD Test for Schools.
See the full list of contents below or at https://www.educationnext.org/journal.
---
Table of Contents
COVER FEATURES
Early evidence shows reforms lifting student achievement
by Douglas N. Harris
Centralized enrollment matches students and schools of choice
by Douglas N. Harris, Jon Valant, and Betheny Gross
COVER RESEARCH
Many Options in New Orleans Choice System
School characteristics vary widely
by Paula Arce-Trigatti, Douglas N. Harris, Huriya Jabbar, and Jane Arnold Lincove
FEATURES
The Myth about the Special Education Gap
Charter enrollments driven by parental choices, not discriminatory policies
by Marcus A. Winters
Wisconsin High Schools Learn from New PISA Test
International comparison drives efforts to improve
by Alan J. Borsuk
FORUM
What Did Race to the Top Accomplish?
Education Next talks with Joanne Weiss and Frederick M. Hess
RESEARCH
Results of President Obama's Race to the Top
Win or lose, states enacted education reforms
by William G. Howell
Boosting Educational Attainment and Adult Earnings
Does school spending matter after all?
by Kirabo Jackson, Rucker C. Johnson, and Claudia Persico
FROM THE EDITORS
"No-Racially-Disparate-Discipline" Policies Opposed by Both Teachers and General Public
by Paul E. Peterson
LEGAL BEAT
Court's latest ruling will hurt minority students
by Joshua Dunn
BOOK REVIEWS
Our Kids: The American Dream in Crisis by Robert D. Putnam
As reviewed by Isabel Sawhill
On the Same Track: How Schools Can Join the Twenty-First-Century Struggle Against Resegregation by Carol Corbett Burris
As reviewed by Patrick J. Wolf
WHAT NEXT
What Twitter Says about the Education Policy Debate
And how scholars might use it as a research tool
by Michael J. Petrilli
SCHOOL LIFE
Inquiry and self-direction guide student learning
by Malaina Kapoor
– Education Next