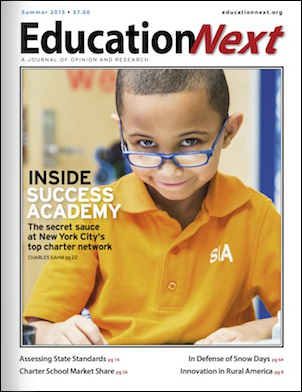 The Summer 2015 Issue of Education Next is here!  The cover story by Charles Sahm takes an in-depth look at Success Academy to see why students thrive in this rapidly expanding charter school network. Richard Whitmire explores the influx of middle-class families into charter schools from Texas to California, and says it could change the charter school movement. June Kronolz profiles organizations that are hoping to strengthen the charter sector by finding and training civic-minded leaders to serve on charter school boards.
How many charters is the right amount?  Scott Pearson and Skip McKoy from the District of Columbia Public Charter School Board argue that families are best served by a mix of traditional and charter schools in a city, while Neerav Kingsland, former CEO of New Schools for New Orleans, defends the idea of a school district made up entirely of charter schools.
What effect has No Child Left Behind (NCLB) had on state standards?  Paul Peterson and Matthew Ackerman find that state proficiency standards have risen across the nation for the first time since the passage of the law. The authors say there is a strong likelihood that Common Core induced this sudden improvement in the rigor of states' standards.
The issue also contains research from Joshua Goodman showing that school cancellations due to snow days have little impact on achievement. Instead, it is individual student absences, which increase on days when schools remain open despite the bad weather, that hurt student achievement, especially in math.
See the full list of contents below or at https://www.educationnext.org/journal.
---
Summer 2015 Table of Contents
FEATURES
School Reform for Rural America
Innovate with charters, expand career and technical education
By Dan Fishman
States Raise Proficiency Standards in Math and Reading
Commitments to Common Core may be driving the proficiency bar upward
By Paul E. Peterson and Matthew Ackerman
What Explains Success at Success Academy?
Charter network focuses on what is being taught, and how
By Charles Sahm
More Middle-Class Families Choose Charters
A political game changer for public school choice?
By Richard Whitmire
Boot Camps for Charter Boards
Finding and training civic-minded leaders
By June Kronholz
The Origins of the Milwaukee Parental Choice Program
Excerpts from No Struggle, No Progress: A Warrior's Life from Black Power to Education Reform
By Howard Fuller
FORUM
How Many Charter Schools is Just Right?
Education Next talks with Scott Pearson, John H. "Skip" McKoy, and Neerav Kingsland
RESEARCH
In Defense of Snow Days
Students who stay home when school is in session are a much larger problem
By Joshua Goodman
FROM THE EDITORS
CREDO Reveals Successful Charters' Secret Sauce
What are the general lessons to be learned from the many case studies of successful chartering?
By Paul E. Peterson
LEGAL BEAT
Fool's Gold
Office of Civil Rights takes on school finance
By Joshua Dunn
BOOK REVIEWS
Lessons of Hope: How to Fix Our Schools by Joel Klein
As reviewed by David Steiner
A Democratic Constitution for Public Education by Paul T. Hill and Ashley E. Jochim
As reviewed by Michael Kirst
WHAT NEXT
The Rise of AltSchool and Other Micro-schools
Combinations of private, blended, and at-home schooling meet needs of individual students
By Michael B. Horn
SCHOOL LIFE
We're All Art Teachers
Don't try to quantify its worth
By Alicia Arman